Qatar Holidays
For those seeking a mix of natural beauty, glamorous tradition, and breathtaking architecture, look no further than a holiday to Qatar. Unlike traditional Middle East holiday locations like Dubai and Abu Dhabi, Qatar is a rapidly developing tourist destination that offers unforgettable experiences just around the corner. This makes for an exciting and delightful holiday experience that is perfectly complimented by the country's glorious weather all year round.
After recently welcoming the world to the FIFA 2022 World Cup, Qatar is a holiday destination with plenty to do for everyone - from entire families to solo adventurers. Just some of the holiday landmarks include inviting beaches, luxurious hotels, state-of-the-art sporting facilities, world heritage sites, and designer shopping malls, all of which are complemented by warm Arabian hospitality.
Travel Info
Language
Arabic
---
Currency
Qatari Riyal
---
Local Time
+3 hours
Weather in Qatar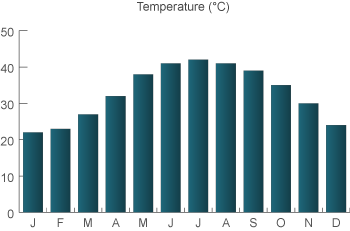 Getting to Qatar
With a flying time of just under seven hours Qatar is easily accessible from the UK with Qatar Airways offering up to four flights a day from London.
Best time to travel to Qatar
The best time to travel for a Qatar holiday is from November to March when the temperatures are warm, but comfortable enough to spend time exploring. It can be scorching in July and August with temperatures over 40 degrees Celsius.
Getting around Qatar
Qatar is a tiny country, about half the size of Wales, and with more than half its population living in and around the capital Doha, it could be considered a city-state. The Doha Bus is the first double-decker tourist bus in Qatar and is a fantastic way to see the capital city of Doha. Each bus has a tourist guide who will run through their own special routes of Doha visiting the popular tourist attractions such as Souq Waqif, the Corniche, Katara Cultural Village and The Pearl-Qatar.
Reasons to visit Qatar
Beaches in Qatar
As a small peninsula jutting out into the Arabian Gulf, Qatar has 560 kilometres of coastline, with gorgeous unspoilt beaches lining the western coast, dotted with reefs, islets, mangroves and salt flats. Qatar has some fine beaches along its lengthy coastline, most of which form part of the hotel grounds but are open to the public on payment of an entrance fee. The most luxurious can be found at the Four Seasons Hotel and the InterContinental where you will also have access to swimming pools, cabanas and children's playgrounds. The only beach not on a hotel property in the Doha area is Katara Beach -- no sunbathing or alcohol is allowed here, but it does offer a range of water sports, including kayaks, sailing dinghies, water skiing, windsurfing, and fishing trips.
Qatar's cultural and historical sites
Despite its rapid economic development and transformation, there has still been a strong commitment to maintain Qatar's history and heritage, blending Arabian culture and tradition with modern innovation and luxury. Located on Qatar's north-west coast the immaculately restored Al Zubarah 18th-century fort is where archaeological works have revealed the ruins of a well-preserved walled town. Recognised in 2013 by UNESCO as a World Heritage Site this region was famous for pearl-diving.
Doha - Qatar's capital
Doha is also firmly grounded in Arabian culture. The older part of the town is full of traditional souqs, the most famous being Souq Waqif, built on the site of an old Bedouin marketplace.
The city's greatest showpiece is the fabulous Museum of Islamic Art, designed to reflect the essence of Islam in its architecture, with bright white limestone cubes illuminated at night and reflected in the surrounding sea. Explore the magnificent collections of the finest Islamic art and artefacts from around the world, spanning 14 centuries of history. Guided tours can be arranged, or you can delve into the past of this five-floor impressive building at your own pace. Visitors can dine at the Michelin-starred chef Alain Ducasses', IDAM Restaurant located on the museum's top floor.
Shopping in Qatar
From traditional souqs to glitzy malls, shoppers will not be disappointed with a visit to Qatar. Souq Waqif is a maze of small shops selling a dazzling array of Middle Eastern merchandise. As well as spices, herbs, perfumes, carpets and jewellery, there's a special section devoted to falcons. Falconry, along with camel racing, is a popular Qatari pastime. Visit the Souq in the evening after sunset, where it comes alive and is filled with locals, expats and tourists.
Villaggio is home to luxury brands, a theme park and a movie theatre. Venetian in its design, visitors can take an iconic gondola ride through the mall's canal. Festival City became Qatar's largest mall when it opened its doors in 2017. With over 530 shops to choose from, shoppers can spend a full day browsing the luxury retailers. Lagoona Mall and the Mall of Qatar also offer plenty of shopping and leisure facilities.
Desert Adventures
A holiday to Qatar would not be complete without a desert adventure, and there are several companies offering this exciting experience. You can be taken on a thrilling desert safari trip in a 4x4, or ride on a camel on a desert safari. Trips can be half or a full day or you can include an overnight stay in a luxury Bedouin camp, complete with a barbecue meal under the stars. To the south lies the spectacular desert sea of Khor al-Adaid, with its vast undulating dunes. Also known as the Inland Sea it is one of the few places in the world where the sea encroaches deep into the heart of the desert.
Dhow Boat cruises in Qatar
Spend the evening soaking up the spectacular panoramic views of the Corniche and Doha's glittering skyline on a traditional dhow boat cruise. The dhow boats were once used for fishing and pearling, the two first occupations of Qataris.
The Pearl-Qatar
The Pearl-Qatar is a chic man-made island located off the west bay coast. Known as 'Arabia's Riviera' it has a distinctive Mediterranean feel. Here you will find luxurious yacht-filled marinas, designer shops, the impressive Marsa Malaz Kempinski hotel as well as a wide range of cafés and restaurants.
Qatar's traditional sports
Traditional sports of camel racing and horse racing are still widely popular today. Al Shahainya racetrack is an hour's drive to the north of Doha where visitors can view remote controlled robot jockeys racing the camels.
Natural Qatar
Al Thakira mangroves lie just north of the city of Al Khor. This large expanse of greenery is in sharp contrast to the surrounding desert landscape. It has its own ecosystem, attracting resident and migrating bird life, including flamingos and herons. A great way to explore the mangroves is by kayak.
Multi-centre holidays
With excellent flight connectivity a holiday to Qatar can be combined with other destinations for a multi-centre holiday including the Maldives and Seychelles.
Events & Festivals
Shop Qatar
7th January – 7th February
The first edition of Shop Qatar is taking place from 7 January – 7 February 2017. Fantastic discounts will be available of up to 50% on a range of products including clothes, electronics, cosmetics and accessories. Participating malls include Mall of Qatar, Ezdan Mall, Hyatt Plaza, AlKhor Mall, Lagoona Mall, Gulf Mall, Landmark, Dar Al Salam Mall, The Gate and The Pearl-Qatar. The Shop Qatar festival will also feature products designed by students and other local designers, displayed at pop-up stores throughout the participating malls. Also on offer during the festival is a variety of entertainment including the Broadway musical Cats, live music, stand-up comedy acts featuring top international star Trevor Noah, culminating with a fashion show. Festival partners include the newly opened Mall of Qatar, Qatar Airways and Ezdan World.
Doha Triathlon
20th January
Since making its Olympic debut at the Sydney Games in 2000, Triathlon has enjoyed tremendous growth and in a country like Qatar, blessed with warm winters, clear azure waters and flat open roads, the sport has flourished. TriClub Doha regularly holds events, and on 20 January 2017 will host a new competition, the Doha Triathlon. Competitors will swim in the tranquil waters of Doha bay before heading off on the bike course along the Corniche towards the imposing towers of West Bay, where they will turn, heading back to the iconic Museum of Islamic Art (MIA) Park to transition into the run course. Athletes will run through the lush green oasis of MIA park, finishing opposite the magnificent "7" sculpture by American artist, Richard Serra.
Katara Winter Festival
22nd – 26th January
2017 will mark the fourth winter festival. This coincides with the mid-term break for schools in Qatar and also academic holidays in Saudi Arabia. There will be family-friendly performances, activities and shows during the late afternoon and evenings.
Commercial Bank Qatar Masters
26th – 29th January
Considered as Qatar's 'must-attend' sporting and social event, returning in January 2017 for its 20th edition, the Commercial Bank Qatar Masters tournament is set to take place 26 - 29 January 2017. In 2016 the event was attended by over 25,000 spectators and broadcast to a global TV audience of over 400 million viewers who saw Branden Grace become the tournament's first ever double champion. 2017's tournament will see Graeme McDowell compete for the first time since 2012 and Ryder Cup stars play for the million dollar prize on offer.
Souq Waqif Spring Festival
Two weeks between January – February
2017 will mark the fourth Souq Waqif Spring Festival. The festival is free and open to the public. There will be family-friendly performances, activities and shows during the late afternoon and evenings.
CATS
1st – 4th February
Andre Lloyd Webber's Broadway musical CATS will be performed in Qatar at the QNCC as part of the Shop Qatar Festival.
Qatar National Sports Day
14th February
Celebrated annually on the second Tuesday of February, the National Sport Day has been singled out by authorities in Qatar as a day for physical activity. It was established in 2011 by the Former Emir Sheikh Hamad bin Khalifa Al Thani. Numerous events take place in different locations in Qatar including The Pearl, Aspire Zone and Katara.
Doha Watches & Jewellery Exhibition
20th -25th February
The 14th edition of Doha Jewellery and Watches Exhibition (DJWE 2017) will be held from 20 – 25 February 2017 at the Doha Exhibition and Convention Centre (DECC) and is set to attract over 500 of the most exclusive luxury watch and jewellery brands from across the world. The exhibition will showcase creative brilliance, master craftsmanship, limited edition pieces and the latest trends in the industry. This year's event will present an impressive list of international brands including Chanel, Cartier, Rolex, Van Cleef & Arpels, Boucheron, and David Webb as well as regional and local brands showcasing emerging Qatari talent.
Picasso-Giacometti Exhibition
22nd February – 21 May
Qatar Museums in collaboration with the Musée National Picasso and the Foundation Giacometti will present the first exhibition dedicated to Pablo Picasso and Alberto Giacometti. The exhibition will run from 22 February – 21 May 2017 at the Fire Station Artist in Residence in Doha, becoming the first to showcase these artists in the Middle East. The major exhibition brings together more than 80 pieces by the two great artists including key works.
Qatar Motorcycle Grand Prix
23rd – 26th March
The Qatar Motorcycle Grand Prix is a motorcycling event that is part of the FIM Grand Prix motorcycle racing season. The Losail race track in Qatar represents the debut race of each MotoGP season. In 2016, Lorenzo came first followed by Dovizioso and Marquez.
Qatar International Food Festival
23rd March – 7th April
The festival showcases Qatar's diverse dining options combined with local and international cuisine, across more than 60 diverse food stalls, as well as cultural and hospitality experiences. Locals and visitors alike will have the opportunity to sample authentic Middle Eastern cuisine and as they wander around the vibrant festival, their palates will take on a culinary journey across the globe. Prominent chefs will be present, showcasing fine dining using the freshest ingredients and latest food trends, as well as a number of one-of-a-kind dining experiences. For thrill seekers, take to the sky for a delectable three-course meal, elevated 40 meters in the air with the 'Dinner In The Sky' experience. The festival will reflect Qatar's range of dining options including several high-end restaurants that have opened in the last couple of years, such as two Gordon Ramsay restaurants at The St. Regis Doha.
Ramadan
27th May (For 30 Days)
Eid al-Fitr
25th June
Qatar Goodwood Festival
1st - 5th August
Goodwood Racecourse in the UK celebrates five days of racing
Qatar Summer Festival
August
The Qatar Summer Festival offers a chance to enjoy a spectacle of creativity, fun and excitement featuring art zones, live shows and performances, shopping promotions and a one-of-a-kind entertainment city.
Eid al Adha
31 August
Eid al Adha
1st & 2nd September
Eid Al Adha Festival
8-12 September
Visa
For nationals of the countries listed below, the waiver will be valid for 180 days from the date of issuance and entitle its holder to spend up to 90 days in Qatar, during either a single trip or on multiple trips
| | | |
| --- | --- | --- |
| | | |
| 1. Antigua and Barbuda | 14. Germany | 27. Poland |
| 2. Austria | 15. Greece | 28. Portugal |
| 3. Bahamas | 16. Hungary | 29. Romania |
| 4. Belgium | 17. Iceland | 30. Sebia |
| 5. Bulgaria | 18. Italy | 31. Seychelles |
| 6. Croatia | 19. Latvia | 32. Slovakia |
| 7. Cyprus | 20. Liechtenstein | 33. Slovenia |
| 8. Czech Republic | 21. Lithuania | 34. Spain |
| 9. Denmark | 22. Luxembourg | 35. Sweden |
| 10. Dominican Republic | 23. Malaysia | 36. Switzerland |
| 11. Estoria | 24. Malta | 37. Turkey |
| 12. Finland | 25. Netherlands | |
| 13. France | 26. Norway | |
For nationals of the countries listed below, the waiver will be valid for 30 days from the date of issuance and entitle its holder to spend up to 30 days in Qatar, during either a single trip or on multiple trips. This waiver may be extended for a further 30 days.
| | | |
| --- | --- | --- |
| | | |
| 1. Andorra | 17. Guyana | 33. Peru |
| 2. Argentina | 18. Hong Kong | 34. Russia |
| 3. Australia | 19. India | 35. San Marino |
| 4. Azerbaijan | 20. Indonesia | 36. Singapore |
| 5. Belarus | 21. Ireland | 37. South Africa |
| 6. Bolivia | 22. Japan | 38. South Korea |
| 7. Brazil | 23. Kazakhstan | 39. Suriname |
| 8. Brunei | 24. Lebanon | 40. Thailand |
| 9. Canada | 25. Mecedonia | 41. Ukraine |
| 10. Chile | 26. Maldives | 42. United Kingdom |
| 11. China | 27. Mexico | 43. United States |
| 12. Colombia | 28. Moldova | 44. Uruguay |
| 13. Costa Rica | 29. Monaco | 45. Vatican City |
| 14. Cuba | 30. New Zeland | 46. Venezuela |
| 15. Ecuador | 31. Panama | |
| 16. Georgia | 32. Paraguay | |
THINGS TO DO
Whale Sharks of Qatar Tour
Summer months in Qatar are also home to the magnificent whale shark. Neither entire shark nor whale – although classed within the shark family – these gentle marine inhabitants can be primarily identified by their distinctly dotted patterns and camouflaging appearance. Just another reason why you should visit Qatar.
During your holiday you'll have the opportunity to see these beautiful creatures thanks to the day Whale Sharks of Qatar Tour. Booking dates for this tour sit between 18th May – 31st August 2023 to coincide with the whale shark season; this makes for the perfect activity for families and couples alike. And with a lowered tour price going into 2023, there has never been a better time to see the majesty of Qatar's own whale shark population.
---
Qatar Museums Gallery
An intimate venue for public art projects, QM Gallery Katara is located within Katara Cultural Village, which houses theatres, concert halls, and restaurants. The QM Gallery provides a platform for Qatar's museums to present their collections. To foster a personal connection with audiences, the gallery hosts artists whose work centres around human themes.
---
National Museum of Qatar
Designed by Pritzker Prize-winning architect Jean Nouvel, the National Museum of Qatar draws inspiration from and recreates the naturally occurring crystal formations known as the desert rose. Interconnected galleries take visitors on a visual journey through Qatar, telling the story of the country, from the pre-historic to the modern era.
---
Souq Waqif
Built on the site of Doha's century old trading market, on the banks of the Wadi Musheireb, Souq Waqif feels like an anachronism, particularly against the backdrop of Doha's dramatic modernist skyline. Souq Waqif's winding alleys offer a tableau of traditional street life. From intricate head pieces and multi-tiered necklaces to more everyday items, the Gold Souq has you covered, no matter your budget.
---
Doha Golf Club
An oasis in the heart of the city, Doha Golf Club, welcomes you to experience a wide range of activities. Doha Golf Club is located in West Bay. With two golf courses that cover all levels of players, walking tracks to explore, various courts to practice your favorite sports, an exquisite restaurant, Doha Golf Club is a must-visit when in Qatar.
---
Qatar National Library
Designed by Rem Koolhaas, the diamond shaped exterior of the library belies its spacious interior, which prioritizes light and visibility. Its growing collection includes rare and valuable archival documents, books and periodicals in various European languages; early Arabic printed materials, such as books, journals, magazines and newspapers; and Arabic manuscripts, maps, atlases, globes, historical photographs, and instruments and tools related to travel.
---
UNESCO World Heritage Al Zubarah Archaeological Site
Adjacent to the walled coastal town of Al Zubarah, this 20th century fort is the youngest and most prominent feature of the Al Zubarah Archaeological Site, a UNESCO World Heritage site.
---
Purple Island
A serene island set amidst nature beyond Al Khor is the Purple Island abundant of mangroves and lush greenery. Located in the northeast of Qatar, Bin Ghannam Island, popularly known as Purple Island, is a must-visit spot. An hour's drive from Doha, near Al Khor city, the island is famous for its natural beauty, exotic flora and fauna, and is ideal for a day trip for the whole family.
---
Desert Falls Water and Adventure Park
With over 25 rides, slides and attractions such as the Whizzard Mat Racer, King Cobra and Ship Kids Pool to name a few, this park is one you must not miss while on your holiday in Qatar. Experience the thrills of Desert Falls Water and Adventure Park. Bring your family for a whopping 57,000 square metres of the most fun, thrills and excitement anywhere on the planet.
---
Explore Al Thuraya Planetarium
Offering celestial delights for families and astronomy enthusiasts alike, the Al Thuraya Planetarium features a full-dome digital system capable of taking up to 200 visitors on a journey around the universe. In addition to engaging exhibits that delve into astronomy, atmosphere, geology and the oceans, Al Thuraya invites visitors to explore the role of astronomy in Qatar's history and religious traditions.
---
Discover Al Janoub Stadium
One of eight venues to host the FIFA World Cup Qatar 2022™, Al Janoub Stadium, was designed by British-Iraqi architect Zaha Hadid. Located near the former fishing town of Wakrah, draws inspiration from the dhow boats which dot Qatar's waters, and the pearls which were integral to its economy. The 40,000-seat stadium was inspired by the sails of traditional dhow boats used by fishermen and pearl divers.
---