Qatar Holidays
Until recently, Qatar has not been a place that immediately springs to mind as a Middle East tourist destination like Dubai, but that is all likely to change as the country prepares to welcome the world for the FIFA World Cup 2022. Today, more and more people are waking up to the exciting possibilities of Qatar holidays. Now one of the richest countries in the world, Qatar is developing a tourist industry to match the scale of its sumptuous sporting facilities, and is keen for as many people as possible to experience its warm Arabian hospitality.
Travel Info
Language
Arabic
---
Currency
Qatari Riyal
---
Local Time
+3 hours
Weather in Qatar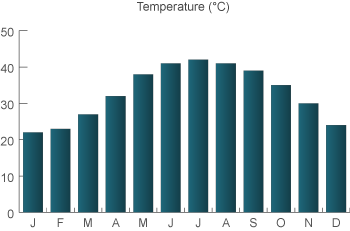 Unique Atmosphere
Qatar is ideally placed to welcome visitors from around the world, as its location on the western coast of the Arabian Gulf makes it a bridge between East and West, and puts it at the crossroads of international travel routes. Despite this, it has a unique atmosphere that makes you feel as if you are right off the beaten track. With all its rapid economic development and transformation, there has still been a strong commitment not to lose touch with its history and heritage, and consequently you will be enchanted by the harmonious blend of Arabian culture and tradition with modern innovation and luxury.
Qatar is a tiny country, about half the size of Wales, and with more than half its population living in and around the capital Doha, could be considered a city-state. As a small peninsula jutting out into the Arabian Gulf, it has 560 kilometres of coastline, with gorgeous unspoilt beaches lining the western coast, dotted with reefs, islets, mangroves and salt flats. To the south lies the spectacular desert sea of Khor al-Adaid, with its vast undulating dunes.
Dynamic Doha
The city's greatest showpiece is the fabulous Museum of Islamic Art, designed to reflect the essence of Islam in its architecture, with bright white limestone cubes, illuminated at night and reflected in the surrounding sea, making a dramatic display.
However, Doha is also firmly grounded in Arabian culture. The older part of the town is full of traditional souqs, the most famous being Souq Waqif, built on the site of an old Bedouin marketplace, with a maze of small shops selling a dazzling array of Middle Eastern merchandise. As well as spices, herbs, perfumes, carpets and jewellery, there's a special section devoted to falcons, falconry along with camel racing being among the most universal Qatari pastimes.
Beach Delights
Qatar certainly has some fine beaches along its lengthy coastline -- most of the beaches around Doha are located on hotel property, but are open to the public on some days of the week, on payment of an entrance fee. The most luxurious are the Four Seasons and the Intercontinental, where you also have access to pools and other facilities like whirlpools, cabanas and children's playgrounds. The only beach not on hotel property in the Doha area is Katara Beach -- no sunbathing or alcohol allowed here, but it has Qatar's highest concentration of water sports, including kayaks, sailing dinghies, water skiing, wind-surfing and fishing trips.
Al Zubarah
Located on Qatar's north-west coast and comprising the immaculately restored Al Zubarah 18th century fort and archaeological works that reveal the ruins of a well-preserved walled town. Recognised in 2013 by UNESCO as a world heritage site this region was famous for pearl-diving and urban trading as a major coastal town.
Desert Adventure
Qatar holidays would not be complete without a desert adventure, and there are several companies offering this exciting experience. You can be taken on a hair-raising desert safari trip in a 4x4, or ride on a camel on the desert safari. Trips can be half day or full day, or can include an overnight stay in a luxury Bedouin camp, complete with a barbecue meal under the stars.
The sun shines all year in this happy country, though the best time of year for Qatar holidays is November to March, avoiding the scorching temperatures. There is plenty of luxury to be enjoyed here, but what makes the country really special is the contrast of old and new -- the traditional dhows sailing in front of the contemporary Museum of Islamic Art, or the traditional camel racing with robot jockeys. This is what gives Qatar its enduring fascination.
Things To Do
EXCURSIONS:
Museum of Islamic Art
Marvel at the magnificent collections of the finest Islamic art and artefacts from around the world, spanning 14 centuries of history. Guided tours can be arranged or visitors can simply lose oneself for hours exploring the past in this five-floor impressive building. Visitors can dine at the Michelin starred chef Alain Ducasses', IDAM Restaurant located on the top floor
Souq Waqif
For an authentic taste of Arab street life and local architecture, nothing can beat a wander through the bustling lanes of Souq Waqif. Besides the treasures on offer, it is a lively dining and entertainment spot, ideal for people-watching. Visit the Souq in the Evening after sunset, it really comes alive and is filled with locals, expats and tourists. For dining in the Souq we suggest a traditional Arabic meal in the evening
Go on a desert safari adventure
An experience not to be missed, besides a heart-raising ride over the dunes in a 4x4, safaris may include camel riding and the chance to visit Qatar's UNESCO recognised site Khor Al Adaid (Inland Sea). The Inland Sea is one of the few places in the world where the sea encroaches deep into the heart of the desert. Round the morning off with a meal in one of the Bedouin-style camps
Al Zubarah Fort
Explore Qatar's heritage by taking a trip to Al Zubarah Fort (Unesco Heritage Site) and the most significant pearling and trading town in the Gulf in the 18th century (can be explored on an excursion). Recognised in 2013 by UNESCO as a world heritage site this region was famous for pearl- diving and urban trading as a major coastal town
Dhow Boat
Spend the evening soaking up the spectacular panoramic views of the Corniche and Doha's glittering skyline on a traditional Dhow boat cruise. The dhow boats were once used for fishing and pearling, the two first occupations of Qataris
Traditional Sports
Traditional sports of camel racing and horse racing are still widely popular today. Al Shahainya race track is an hour's drive to the North of Doha where the visitors can view remote controlled robot jockeys racing the camels
Al Thakira Mangroves
A large area of vegetation attracting varied bird life, including flamingos and herons.
Al Thakira mangroves, lying just north of the city of Al Khor, present a large expanse of natural greenery in sharp contrast to the surrounding desert landscape. This area of vegetation with its own ecosystem is notable for attracting resident and migrating bird life, including flamingos and herons. A great way to explore the mangroves is by kayak, available from several local inbound operators and specialist companies
Doha Bus
The Doha Bus is the first double-decker tourist bus in Qatar and is a fantastic way to see the capital city of Doha. Each bus has a tourist guide and will run through their own special routes of Doha visiting the popular tourist attractions such as the Souq Waqif, the Corniche, Katara Cultural Village and The Pearl-Qatar
The Pearl
Visit the Pearl-Qatar and witness the Mediterranean-style yacht lined marinas, residential towers, villas and the magnificent Marsa Malaz Kempinski hotel. The chic man-made island just off the West Bay coast is a popular visitor attraction and boasts a wide selection of fantastic cafes and restaurants
SHOPPING MALLS:
The infamous Villaggio is home to luxury brands, a theme park and a movie theatre. Venetian styled and comprising of a canal, passengers can take an iconic gondola ride through the mall
Festival City became Qatar's largest mall when it opened its doors in 2017. With over 530 shops to choose from, shoppers can spend a full day cruising the luxury retailers available
Visit Lagoona Mall which plays with light and space to create a relaxing shopping atmosphere. Shop in the newly opened Mulberry or Vilebrequin or catch up over coffee to rest to shop some more
The 500,000 sqm Mall of Qatar opened in 2016 to provide innovative shopping and leisure options, and offer unique experiences that can be enjoyed fully everyday
Events & Festivals
Shop Qatar
7th January – 7th February
The first edition of Shop Qatar is taking place from 7 January – 7 February 2017. Fantastic discounts will be available of up to 50% on a range of products including clothes, electronics, cosmetics and accessories. Participating malls include Mall of Qatar, Ezdan Mall, Hyatt Plaza, AlKhor Mall, Lagoona Mall, Gulf Mall, Landmark, Dar Al Salam Mall, The Gate and The Pearl-Qatar. The Shop Qatar festival will also feature products designed by students and other local designers, displayed at pop-up stores throughout the participating malls. Also on offer during the festival is a variety of entertainment including the Broadway musical Cats, live music, stand-up comedy acts featuring top international star Trevor Noah, culminating with a fashion show. Festival partners include the newly opened Mall of Qatar, Qatar Airways and Ezdan World.
Doha Triathlon
20th January
Since making its Olympic debut at the Sydney Games in 2000, Triathlon has enjoyed tremendous growth and in a country like Qatar, blessed with warm winters, clear azure waters and flat open roads, the sport has flourished. TriClub Doha regularly holds events, and on 20 January 2017 will host a new competition, the Doha Triathlon. Competitors will swim in the tranquil waters of Doha bay before heading off on the bike course along the Corniche towards the imposing towers of West Bay, where they will turn, heading back to the iconic Museum of Islamic Art (MIA) Park to transition into the run course. Athletes will run through the lush green oasis of MIA park, finishing opposite the magnificent "7" sculpture by American artist, Richard Serra.
Katara Winter Festival
22nd – 26th January
2017 will mark the fourth winter festival. This coincides with the mid-term break for schools in Qatar and also academic holidays in Saudi Arabia. There will be family-friendly performances, activities and shows during the late afternoon and evenings.
Commercial Bank Qatar Masters
26th – 29th January
Considered as Qatar's 'must-attend' sporting and social event, returning in January 2017 for its 20th edition, the Commercial Bank Qatar Masters tournament is set to take place 26 - 29 January 2017. In 2016 the event was attended by over 25,000 spectators and broadcast to a global TV audience of over 400 million viewers who saw Branden Grace become the tournament's first ever double champion. 2017's tournament will see Graeme McDowell compete for the first time since 2012 and Ryder Cup stars play for the million dollar prize on offer.
Souq Waqif Spring Festival
Two weeks between January – February
2017 will mark the fourth Souq Waqif Spring Festival. The festival is free and open to the public. There will be family-friendly performances, activities and shows during the late afternoon and evenings.
CATS
1st – 4th February
Andre Lloyd Webber's Broadway musical CATS will be performed in Qatar at the QNCC as part of the Shop Qatar Festival.
Qatar National Sports Day
14th February
Celebrated annually on the second Tuesday of February, the National Sport Day has been singled out by authorities in Qatar as a day for physical activity. It was established in 2011 by the Former Emir Sheikh Hamad bin Khalifa Al Thani. Numerous events take place in different locations in Qatar including The Pearl, Aspire Zone and Katara.
Doha Watches & Jewellery Exhibition
20th -25th February
The 14th edition of Doha Jewellery and Watches Exhibition (DJWE 2017) will be held from 20 – 25 February 2017 at the Doha Exhibition and Convention Centre (DECC) and is set to attract over 500 of the most exclusive luxury watch and jewellery brands from across the world. The exhibition will showcase creative brilliance, master craftsmanship, limited edition pieces and the latest trends in the industry. This year's event will present an impressive list of international brands including Chanel, Cartier, Rolex, Van Cleef & Arpels, Boucheron, and David Webb as well as regional and local brands showcasing emerging Qatari talent.
Picasso-Giacometti Exhibition
22nd February – 21 May
Qatar Museums in collaboration with the Musée National Picasso and the Foundation Giacometti will present the first exhibition dedicated to Pablo Picasso and Alberto Giacometti. The exhibition will run from 22 February – 21 May 2017 at the Fire Station Artist in Residence in Doha, becoming the first to showcase these artists in the Middle East. The major exhibition brings together more than 80 pieces by the two great artists including key works.
Qatar Motorcycle Grand Prix
23rd – 26th March
The Qatar Motorcycle Grand Prix is a motorcycling event that is part of the FIM Grand Prix motorcycle racing season. The Losail race track in Qatar represents the debut race of each MotoGP season. In 2016, Lorenzo came first followed by Dovizioso and Marquez.
Qatar International Food Festival
23rd March – 7th April
The festival showcases Qatar's diverse dining options combined with local and international cuisine, across more than 60 diverse food stalls, as well as cultural and hospitality experiences. Locals and visitors alike will have the opportunity to sample authentic Middle Eastern cuisine and as they wander around the vibrant festival, their palates will take on a culinary journey across the globe. Prominent chefs will be present, showcasing fine dining using the freshest ingredients and latest food trends, as well as a number of one-of-a-kind dining experiences. For thrill seekers, take to the sky for a delectable three-course meal, elevated 40 meters in the air with the 'Dinner In The Sky' experience. The festival will reflect Qatar's range of dining options including several high-end restaurants that have opened in the last couple of years, such as two Gordon Ramsay restaurants at The St. Regis Doha.
Ramadan
27th May (For 30 Days)
Eid al-Fitr
25th June
Qatar Goodwood Festival
1st - 5th August
Goodwood Racecourse in the UK celebrates five days of racing
Qatar Summer Festival
August
The Qatar Summer Festival offers a chance to enjoy a spectacle of creativity, fun and excitement featuring art zones, live shows and performances, shopping promotions and a one-of-a-kind entertainment city.
Eid al Adha
31 August
Eid al Adha
1st & 2nd September
Eid Al Adha Festival
8-12 September
Visa
For nationals of the countries listed below, the waiver will be valid for 180 days from the date of issuance and entitle its holder to spend up to 90 days in Qatar, during either a single trip or on multiple trips
| | | |
| --- | --- | --- |
| | | |
| 1. Antigua and Barbuda | 14. Germany | 27. Poland |
| 2. Austria | 15. Greece | 28. Portugal |
| 3. Bahamas | 16. Hungary | 29. Romania |
| 4. Belgium | 17. Iceland | 30. Sebia |
| 5. Bulgaria | 18. Italy | 31. Seychelles |
| 6. Croatia | 19. Latvia | 32. Slovakia |
| 7. Cyprus | 20. Liechtenstein | 33. Slovenia |
| 8. Czech Republic | 21. Lithuania | 34. Spain |
| 9. Denmark | 22. Luxembourg | 35. Sweden |
| 10. Dominican Republic | 23. Malaysia | 36. Switzerland |
| 11. Estoria | 24. Malta | 37. Turkey |
| 12. Finland | 25. Netherlands | |
| 13. France | 26. Norway | |
For nationals of the countries listed below, the waiver will be valid for 30 days from the date of issuance and entitle its holder to spend up to 30 days in Qatar, during either a single trip or on multiple trips. This waiver may be extended for a further 30 days.
| | | |
| --- | --- | --- |
| | | |
| 1. Andorra | 17. Guyana | 33. Peru |
| 2. Argentina | 18. Hong Kong | 34. Russia |
| 3. Australia | 19. India | 35. San Marino |
| 4. Azerbaijan | 20. Indonesia | 36. Singapore |
| 5. Belarus | 21. Ireland | 37. South Africa |
| 6. Bolivia | 22. Japan | 38. South Korea |
| 7. Brazil | 23. Kazakhstan | 39. Suriname |
| 8. Brunei | 24. Lebanon | 40. Thailand |
| 9. Canada | 25. Mecedonia | 41. Ukraine |
| 10. Chile | 26. Maldives | 42. United Kingdom |
| 11. China | 27. Mexico | 43. United States |
| 12. Colombia | 28. Moldova | 44. Uruguay |
| 13. Costa Rica | 29. Monaco | 45. Vatican City |
| 14. Cuba | 30. New Zeland | 46. Venezuela |
| 15. Ecuador | 31. Panama | |
| 16. Georgia | 32. Paraguay | |