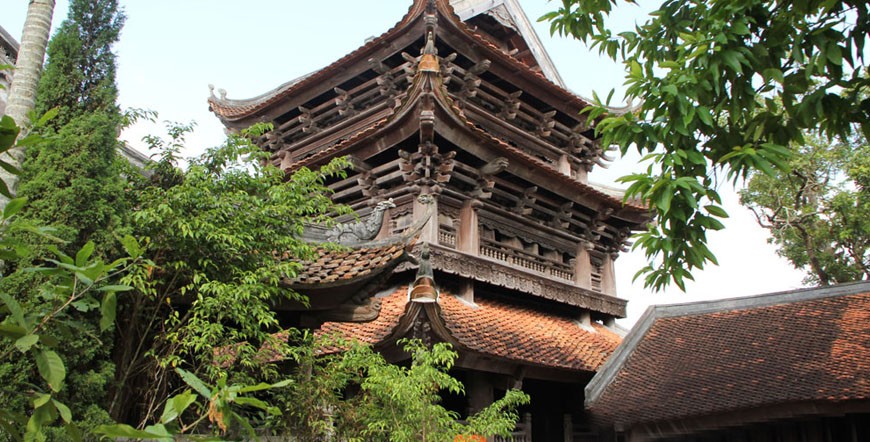 Tour Itinerary
Day 1: Depart from UK
Day 2: Arrive Hanoi (D)
Arriving Hanoi airport, your guide will pick you up at airport and transfer to hotel. You will enjoy a traditional Vietnamese water puppet show before dinner at restaurant. Overnight in Hanoi
Day 3: Hanoi City Tour – Lao Cai ( B, D)
08:30 AM Today we spend a full day exploring the charming Hanoi City. The first stop is Ho Chi Minh Complex containing the mausoleum of the nation's founder Ho Chi Minh, the Presidential Palace and the Ho Chi Minh's house on stilts. Close to this complex is the One Pillar Pagoda, whose origins date back to the foundation of city. We follow it with a visit to the Museum with an excellent collection of artifacts illustrating the Vietnamese history. The sightseeing also includes the outlaying Ethnologic Museum, dedicated to Vietnam's 54 ethnic groups. Afterwards we drive back to the town center, stopping at the Tran Quoc Pagoda and Quan Thanh Temple. They are some major highlights set by the beautiful West Lake. We see these sights before continuing to the peaceful lake of Hoan Kiem with its sacred temple. Enjoy a cyclo ride through the bustling old quarter streets named after the specific goods once offered for sale at these places. Dinner at restaurant and transfer to railway station for night train to Lao Cai. Overnight on train.
Please note that the HCM Mausoleum is closed on Fridays and Mondays and most museums are closed on Mondays.
Day 4: Lao Cai - Ethnic Markets - Sapa (B, D)
05:00AM Arrive in Lao Cai in the early morning, where you'll be met and taken by car to visit one of local market frequented by ethnic minority peoples in Sapa region as below:
Coc Ly market on Tuesday
Cao Son market on Wednesday
Lung Khau Nhin Market on Thursday
Coc Ly market on Friday
Can Cau market on Saturday
Bac Ha market on Sunday
Overnight in Sapa
Day 5: Lao Chai - Ta Van Vilages - Lao Cai - Hanoi (B, D)
09:30 AM Today we visit scenic villages Ta Van of Zay hill tribe people and Lao Chai of Black H'mong people, where we will enjoy a walk and discover the traditional lifestyle of welcoming people who are proud of their culture and keep their traditions and way of living. They have their own language. Zay women still wear traditional shirts with a purple, blue or green color. The Zay houses are build of wood and bamboo with a clay floor. Black H'mong women wear traditional indigo blue clothing.
17:00 Transferred to the railway station for the overnight train to Hanoi. Dinner at local restaurant. Overnight on train.
Day 6 : Hanoi - Ha Long (B, L, D)
Arrive in Hanoi in early morning, pick up and transfer to restaurant for breakfast. 08:00AM Make your way through the Red River Delta from Hanoi to Ha long City via your transfer vehicle. Your cruise will begin with a transfer from the mainland on our excursion boat which will transport you to our main vessel, Signature Cruise Ha long Bay.
12:00PM Upon boarding you will be greeted by our friendly Captain and Crew and enjoy a complimentary welcome drink. After a brief introduction and safety procedures overview, you will be checked into your cabin and have some free time to relax and explore the craft.
A delicious lunch will be served in our main dining room as we slowly cruise through the magnificent limestone formations which make up Halong Bay. Feast on delicious seafood and a wide range of other delicious dishes as we make our way deeper inside Halong Bay.
In the afternoon we sail to Bai Tu Long Bay passing extraordinary limestone karst landscapes, Oan Lagoon, Teapot and Monster Head Islets, and the towns of Hon Gai and Cam Pha. Next we head to Vung Vieng fishing village by local rowing boats or kayaks to explore the interesting daily lives of its inhabitants.
Back onboard Signature Cruise Halong Bay's main craft we will drop anchor near Hang Trong Islet for our overnight stay surrounded by incredible landscape. Our qualified chef will conduct a Vietnamese cuisine cooking demonstration and invites you all to participate in the preparation of these mouth-watering delights. Your dinner this evening will be a delectable a la carte feast with something for everyone's taste buds.
Evenings are beautiful on Halong Bay, and just because the sun goes down doesn't mean the night is over. Take advantage of our onboard facilities or just relax to your heart's content. Our professional massage and spa centre will give you the pampering you deserve after a hard day of cruising.
Relax at our fully stocked bar with an assortment of local and international favorites. Try your luck at night squid fishing, watch a film or simply relax on our roof top deck under the cover of a star filled sky. Overnight on board.
Day 7 - Halong ( B, L, D)
06:30AM Early birds are welcome to attend sunrise Tai Chi on our upper deck and it's an excellent way to get your energy levels up for today's adventures. You will be fascinated by the exquisiteness of Halong Bay in the early hours as you enjoy a coffee, tea or juice or take a dip in the emerald waters.
As we raise our anchor we cruise past incredible sites such as Trong (Drum) cave, Trinh Nu (Virgin) cave, Coc Ngoi (Toad) Islet and more. Enjoy an amazing buffet breakfast offering an assortment of breakfast items and we are sure that you won't be disappointed. Our coffee is chosen from the best, as are our selection of fresh juices.
Next we board our excursion boat to head to Lan Ha Bay, best known for its crystal clear sandy beaches. Enjoy kayaking, swimming or just relax on a stunning secluded beach. A mouth-watering BBQ lunch will be served on the beach (weather permitting).
After lunch we continue on to the most isolated area of Lan Ha Bay near the border of The Gulf of Tonkin and explore Toi and Sang Caves. We visit a beautiful lagoon and charming fishing villages and depending on the weather and tides, kayak through an incredible tunnel under a limestone karst.
Back on board Signature Cruise, take some time to freshen up, take a nap or just relax at your leisure as we cruise to Ho Dong Tien for our overnight stay. Witness one of the most brilliant sunsets you will ever see. A special a la carte dinner will be served offering you outstanding food and quality service.
This evening is yours to enjoy whatever you please. Tonight we will hold a movie night with a selection of some of the latest release films available. We also have a selection of board games and trivia quizzes for your entertainment. Our bar is always open and is an ideal place to meet new people and share stories about your adventures. Overnight on board.
Day 8 - Halong – Hanoi – Danang – Hoi An (Brunch, D)
06:30AM The best time to observe Halong Bay is in the early morning and we suggest that if you didn't get to witness it yesterday that now is your last chance. Tai Chi will be conducted again today on our upper deck and is a terrific way to feel as one with the peaceful surroundings.
Our renowned buffet breakfast will be served this morning before boarding the excursion boat to visit Surprise Cave (Sung Sot). Climb 100 stairs and explore this incredible cavern with its stunning formations and magnificent views of Halong Bay and surrounding areas.
Back on our main craft it is time to check out of your cabin and enjoy the last stage of your trip with a delicious lunch as we continue to cruise back towards civilization through scenery that hasn't really changed since the discovery of Halong Bay.
11:00 AM After a final farewell from our staff, you will be transported back to Halong City wharf via our excursion craft for your transfer back to Hanoi airport to take your flight to Danang.
Arriving Danang airport, pick up and transfer to hotel in Hoi An. Dinner at restaurant and Overnight in Hoi An.
Day 9 - Hoi An – Tra Que Village (B, D)
08:30AM After breakfast, you will cycle (about 4 km) through rural village to a family in Tra Que Village. After a welcome drink of freshly picked fruits, you stroll around to learn about the history and customs of this charming village. You also walk through gardens where hundreds of local farmers working using traditional methods of hundreds of years ago. Returning to the family, all participants are given a farming tool to join the farmers in preparing the land for sewing. Your guide will explain traditional farming methods while you help fertilize the garden using riverweed from a local river, and then water it using huge tin cans strapped to our back. Time is then spent picking vegetables and herbs, learning how to cover them to prevent damage. After "hard working time" with gardening, you are treated with a foot herbal massage. You'll then try your hands with making the village specialty named "Tam Huu" spring rolls - using the local herbs and vegetables or Zuzizuzi Cake (Banh Xeo).
13:30 After a lovely lunch, you are transferred back to your hotel in Hoian. In the afternoon, visit the Ancient Town including the 200 year-old Tan Ky house, Phuc Kien Pagoda, the Assembly Hall, the former merchants' houses, the 400 year-old Japanese Covered Bridge and the colorful riverside market. Dinner at restaurant
Overnight in Hoi An.
Day 10 - Danang – Hochiminh (B, D)
You'll be free until you are picked up to the airport to take your flight to Hochiminh. Arriving Hochiminh airport, pick up and transfer to hotel. Dinner at restaurant and Overnight in Hochiminh.
Day 11 - Ho Chi Minh – Mekong Delta – Ho Chi Minh (B, L, D)
07:30AM Depart from Ho Chi Minh City around 8am and head south to Ben Tre province, famous for its coconut production and quiet, peaceful waterways. On arrival, take a Xe loi ride through the local village of Huu Dinh to enjoy the green fields and gardens. Continue with a short walk to Huu Phuoc Bridge, where you will start your boat trip through small canals with beautiful tropical scenery. On board the boat, enjoy a welcome drink and tropical fruits while cruising.
The cruise will first stop at a Coconut processing family owned business. Here you will learn what Ben Tre is known for and the hundreds of uses of each single coconut. Return to your boat and cruise across the water to a brick making factory, where the locals still use centuries-old traditional methods to make the bricks by hand. Enjoy a casual cycling trip that will take you to visit a local rice noodle factory which produces Hu Tieu noodles, one of the most popular dishes in the region. After your visit take a short walk to one of our friends, Mrs. Huong, who lives with her 3 children and grandson – they live on fishing, shrimp and fruit orchards. Enjoy fresh fruits and tea and then board a rowing sampan taking you through a lush narrow canal, displaying the tranquil nature of the region.
After our team rows you through the quiet canal, reconnect with your Day Cruiser and enjoy a cruise to a private riverside restaurant. It is time for you to relax and enjoy a 5-course lunch of local specialties. Relax and have a walk around the lush garden setting. Then continue your cycling trip to My Long to visit Mr Sau Tuong, a former Vietcong soldier who survived two years fighting the Khmer Rouge in Phnom Penh. Now he and his wife live on making rice paper which is the most famous specialty of My Long village. Have a chat with him and enjoy the crispy rice paper made by his wife, and see how it is made. Then visit the nearby house of Mr Hung, who is a famous sticky rice maker in the village. You can also feed his stock of catfish and walk through his fruit garden. After the visit, the boat will be waiting for you at the pier nearby to bring you back to Ben Tre city where your car will be ready to take you back to Ho Chi Minh City. Dinner at local restaurant.
Overnight in Ho Chi Minh city.
Day 12 - Ho Chi Minh – Cu Chi (B, D)
07:30AM Picking up to pier in District 1 for an hour scenic speedboat trip (joining boat) to Cu Chi tunnel which are 70 kilometers North West of Ho Chi Minh City, created since 1948 to assist the Viet Minh to combat the French. (At 07.30- 07.40 light breakfast will be served on board). This is an underground city with living areas, kitchens, storage, weapon shops, field hospitals, command centers. During the American War the entire area of Cu Chi was designated a fire free zone and was heavily bombarded. From 1988, two sections of the tunnels have been open for visitors. The excursion finished and boat back our city. Return to Ho Chi Minh
Afternoon, you'll visit the History Museum where there is a special exhibition of the 5th century 'Oc Eo' civilisation OR The Museum of War Remnants where provides a very partial, but riveting, perspective of the 'American War': not for the squeamish! You'll also call in at the Jade Emperor Temple. It's one of the best Taoist temples in Vietnam, with superb effigies, remarkable carved panels of the descent to Hell and somewhat incongruous terrapin and tortoise sanctuaries. You'll then return your hotel for freshen up or wander around the huge Ben Thanh market, one of the liveliest areas of Ho Chi Minh City, is packed with every conceivable commodity. Dinner at restaurant
Overnight in Ho Chi Minh.
Day 13 - Hochiminh – Phnom Penh (B, D)
Free until transfer to airport for flight to Phnom Penh
Arrive in Phnom Penh. Our tour guide will pick you up and transfer to the hotel.
Free at leisure and have dinner at restaurant
Overnight in Phnom Penh
Day 14 - Phnom Penh (B, D)
08:00AM The term is a misnomer because it implies a single location. In reality, the process of genocide under the Kh'mer Rouge involved a large network of interrogation prisons linked to extermination centres. The most infamous is Phnom Penh's S-21 Prison and the Choeung Ek extermination centre. S-21 Prison was originally the Tuol Svay Pray High School on the outskirts of the capital. It became an interrogation, torture and execution centre under the Kh'mer Rouge. Today it is the Tuol Sleng Museum of Genocide. The name means 'poison hill', an apt description. Choeung Ek, the 'killing fields', was the final destination of nearly all the inmates of S-21. The helpless victims were slaughtered in their thousands and thrown into more than a hundred shallow burial pits dug by the prisoners. The total number of men, women and children buried at Choeung Ek is estimated to be around 15,000. It was one of many extermination centres spread across the entire country – and by no means the largest! A visit to Tuol Sleng and Choeung Ek presents a stark picture of Cambodia's recent past. However, it's also a profoundly harrowing experience and likely to distress anyone of a sensitive disposition.
Visit Royal Palace is a royal residence now where His Majesty, the King of Cambodia, and the royal families live. it is like a small town of royal dynasties. Continue to Silver Pagoda, serves less as a functioning temple than a repository for cultural treasures such as 90 kg golden Buddha encrusted with 2086 diamonds. Evening dinner at a nice restaurant.
Overnight in Phnom Penh.
Day 15 - Phnom Penh – Siem Reap (B, D)
Transfer to the airport for your departure flight to Phnom Penh. Pick up and transfer to hotel.
Then you will be taken up with visits to some of the outer sites including Preah Khan, a huge and highly explorable monastic complex, Neak Pean, a Himalayan-style lake and sanctuary, and East Mebon, a temple-mountain. After that, you'll also see Ta Prohm, strangled by massive tree roots and typical of the condition of the whole complex when it was discovered in 1860 by French naturalist Henri Mouhot. Your guide will then show you the Prasat Kravan (also known as the Cardomom Sanctuary) and Srah Srang lake and landing terrace.
The Srah Srang is less touristed and could be sunset alternative to Angkor Wat.
14:00 Dinner at restaurant. Overnight in Phnom Penh.
Day 16 - Siem Reap (B, D)
08:00AM After breakfast, your day will be devoted to the Temple complex, of which Angkor Wat is a key element. You'll begin with a visit to Angkor Thom, starting with the Bayon, a bizarre structure of several architectural changes reflecting a switch from Hinduism (the foundations) to Buddhism (the superstructure). Your next visit will be to the Elephant and Leper King Terraces followed by the Baphoun Temple, which is now nearing the end of an eight-year multi-million dollar restoration programme.
In the afternoon, you'll explore Angkor Wat itself, the largest, and for most people, the most impressive temple in the complex. As dusk nears, a walk to the summit of Phnom Bakheng Hill will afford a panorama of the whole complex lit by the rays of the setting sun, weather permitting of course. Have a dinner at restaurant. Overnight stay in Siem Reap.
Day 17 - Siemreap Departure (B)
Breakfast at hotel.
Free at leisure for self-exploring the city or for shopping.
Free at leisure until transferred to the airport for departure flight.
Additional Prices
For alternative dates and additional prices please call our specialists on:
0203 519 2630 or Enquire
Price Includes
International flight with Vietnam Airlines
All transfers and transportation in private air-conditioned vehicle
11 nights hotel accommodation in twin sharing room
02 nights on boat in Ha Long Bay
02 nights on train in cabin shared (four soft sleeper/ cabin)
Meals as mentioned (B = Breakfast, D = Dinner)
English speaking tour guide.
Entrance fees
Cyclo ride in Hanoi.
Boat trips in Mekong Delta
Speed boat Cu Chi ticket
Water puppet tickets
Round trip train tickets Hanoi - Lao Cai - Hanoi by Victoria Express: Shared 4 berth cabin
1 hour of foot massage in Siem Reap
Water & cool tower during tour Domestic Flight
Hanoi – Danang:
Danang – Ho Chi Minh
Hochiminh – Phnom Penh
Phnom Penh – Siem Reap
Price Exclusion
Visa stamp fee to Vietnam - Cambodia
Lunch throughout
Drinks & Other meals
Single room
Travel insurance
Tip & Personal expenses
Hotel List
Siem Reap : 5* Shintamani www.shintamani.com ( Pool view ) or similar
Phnom Penh: 4* White Mansion www.hotelphnompenh-whitemansion.com ( Deluxe)
Hanoi: 5* Sofitel Plaza Hanoi www.sofitel.com (Luxury) or similar
Sapa: 4* Victoria www.victoriahotels.asia (Superior)
Halong : 5* Signature Cruise www.signaturehalongcruise.com ( Suit Cabin) or similar
Hoi An: 5* Sunrise Resort www.sunrisehoian.vn (Ocean Deluxe) or similar
Ho Chi Minh: 5* Rex www.rexhotelvietnam.com (Deluxe) or similar