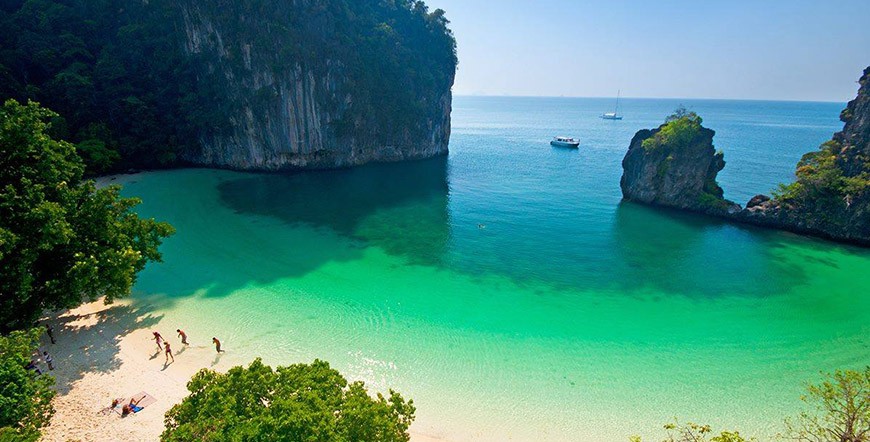 Tour Itinerary
Day 1 : Phuket : Arrival
Upon arrival in Phuket , you will be me and greeted by Tour East Representative at the arrival hall.
You will be transferred to your hotel Phuket
Check-in to your hotel (Standard Check-in time is at 2PM) and at leisure afterwards.
Overnight in Phuket
Day 2 - Phuket
Phuket Introduction Tour (Private Tour)
As the tour name suggests this is an ideal opportunity to familiarize you with your holiday island and take in the islands natural beauty as we drive along the beach roads through Patong, Karon, Kata and Rawai.
For fabulous photo opportunities we will stop at the Karon viewpoint and cultural sights such as the sacred Buddhist temple of Phuket 'Wat Chalong' Phuket town offers an interesting mix of architecture including Sino - Portuguese. This town has been the backdrop for many western movies as it is said to be very similar to Indochina. Overnight in Phuket
Day 3 – Phuket
Phi Phi Island By Speed Boat (Join Tour)
Enjoy a full day visiting two of the most famous islands in southern Thailand Phi Phi Don and Phi Phi Lay, and the beautiful surrounding seascapes. It take just about 1 hour by speedboat to reach Phi Phi Lay, the smaller of the two islands which is home to Maya Bay the famous beach from the Hollywood film "The Beach". An ample Thai lunch will be served at a beachside restaurant before the rest of the day unfolds when you can stop for great swimming and snorkeling opportunities.
Speed boat will be on join-in basis .
Overnight in Phuket
Day 4 – Phuket – Khao Lak
Overland Private Transfer to Khao Lak
At leisure upon arrival in Khao Lak
Overnight in Khao Lak
Day 5 – Khao Lak
Phang Nga Bay On Slow Boat (Join Tour)
Explore Phang Nga Bay using the slow boat. On this tour you will explore Hong Island and visit James Bond Island as seen in the movie "A Man with the Golden Gun". Ride through Grotto Caves and navigate among the labyrinthine of one of the largest mangrove swamps in the country. Enjoy a great lunch on Panyi Island (Sea Gypsy Village). Return to your hotel afterwards
Overnight in Khao Lak
Day 6 – Khao Lak
Jungle Walk And Khao Lak Old Town (Join Tour)
Get ready for a journey to the long lost zone of "Little Amazon",the hidden forest in Takuapa. Once inside the dense jungle of the Giant Banyan Trees that surround you, make your way to the Palm Forest where, by traveling along the small river "Klong Sung Nae" by canoe, you can listen to the sounds of nature. The trip also includes Takuapa Old Town where you can experience the local Thai people's lives in this charming small town where traditional life and culture has remained unchanged for more than a hundred years.
Overnight in Khao Lak
Day 7 – Khao Lak
Elephant bathing & feeding, Thai traditional drinks and dessert, Sea Turtle Conservation Center and Bamboo rafting (Join Tour)
Our commitment to the ethical treatment of Thailand's elephants is clearly represented in our Seaside Retreat. It is the only Elephant Camp that guarantee a NO riding concept so that our guests are able to experience the majestic giants in peace and harmony.
The Seaside Retreat is a relaxing place nestled not far from the Khao Lak National Park with a splendid view over the Andaman Sea. This is the place to be when you want to enjoy some quality time with our majestic Elephants. At a beautiful lagoon in the neighborhood, you will get the experience bathing and showering an elephant. Last but not least! You can enjoy Thai coffee break and have chance to make DIY Thai dessert Ka-Nom-Croke. Afterwards you will be enjoying your time to feed them and spend time with them. After a delicious Thai lunch we start a relaxing Bamboo Raft trip down the Jungle River surrounded by stunning natural vibe!.
Overnight in Khao Lak
Day 8 - Khao Lak – Phuket
Overland Transfer to Phuket Hotel or Phuket Airport (Private)
Accommodation
Phuket - The Old Phuket Karon Beach
Khao Lak - Centara Seaview Resort Khao Lak
Additional Prices
For alternative dates and additional prices please call our specialists on:
0203 519 2630 or Enquire
Included Services
Ground Transportation on private basis unless stated otherwise
Accommodation based on Twin Share room based on lead-in category room
All Tours with English Speaking Guide based on private or join tour as stated in the itinerary
All Entrance Fees to the places visited mentioned in the itinerary
Daily Buffet Breakfast (Day 2 – Day 8) at the hotel stayed
Lunches at the local Thai restaurants as stated in the program