Istanbul Holidays
Istanbul is the city that has it all -- thousands of years of history, sensational views, amazing architectural landmarks and a vibrant, fast-paced mix of cultures. Above all, its location makes it totally unique -- it's the only city in the world that spans two continents, Europe and Asia, making it a meeting place not just of East and West, but of the ancient and modern worlds too. As one of the world's most extraordinary and fascinating cities, it's hardly surprising that it's consistently among the world's top tourist destinations, in 2014 receiving the Traveller's Choice Award for the world's No. 1 destination.
Anyone who has visited Istanbul testifies to what an incredible effect it has. As you walk down any city street, pages of history open before your eyes, and an amazing cultural experience awaits you round every corner. The city's steep hills, topped with stately mosques, make it a place of unforgettable vistas across the stunning waterways, which are ceaselessly busy with boats and ships criss-crossing in all directions. You need strong legs to walk these hills, but every few steps brings some unexpected delight.
Famous Monuments
There are of course a wealth of famous monuments, reminders of the city's colourful past, which you really should not miss. Fortunately, many of these are close together, in or around the district of Sultanahmet, the heart of historic Old Istanbul. This is an ideal place to start your exploration, as it also has plenty of shops and good restaurants.
Probably the best known landmark is Topkapi Palace, which was the residence of Ottoman sultans for 400 years, from the 15th to 19th centuries. A visit to its resplendent pavilions, sprawling Harem and jewel-filled Treasury gives a fascinating glimpse into the lives of the sultans -- often colourful in the extreme. You can marvel at the ornate Fountain of Sultan Ahmet III in the cobbled square outside the Imperial Gate, and wander through the four Courts, each a palace in its own right.
Travel Info
Language
Turkish
---
Currency
Turkish Lira
---
Local Time
+2 hours
Weather in Istanbul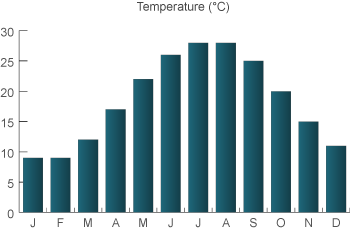 Two Breathtaking Wonders
Two of the city's most breathtaking wonders, Hagia Sophia and the Blue Mosque, are next door to each other. Hagia Sophia, or Aya Sofya, the name meaning Divine Wisdom, began its 1,500-year history as a Christian cathedral, before being converted to Turkey's first mosque when the Turks captured the city, then called Constantinople. Its vast domed ceilings, seeming to float high above the ground, with dozens of lights suspended from them, and its vividly expressive mosaics, all recall the glories of Byzantine Christendom, and its ancient Christian frescoes, recently uncovered, are among the best-preserved and most beautiful in the world.
Right beside Hagia Sophia stands the magnificent Sultanahmet Mosque, better known as the Blue Mosque, with its minarets and cascading domes dominating the skyline. Its six minarets, emulating the Great Mosque at Mecca, caused a scandal until the sultan added a seventh minaret at Mecca to maintain its superiority. Arcades run beneath the cascading domes, and the soaring ceilings inside are lined with the blue tiles that give the mosque its name.
More Landmarks
There are plenty more splendid landmarks, including the elegant Suleymaniye Mosque, one of the grandest of the Ottoman mosques, featuring gardens and a three-sided forecourt with a domed fountain, and the mysterious 6th-century Basilica Cistern, a vast underground vault supported by lines of ancient, intricately-carved Greek pillars. At the heart of the Old City is the chaotic and colourful Grand Bazaar, originating from the 15th century. As well as enjoying its thousands of shops, you can peep through doorways to discover hidden caravanserais (inns with a central court), and wander down narrow lanes to watch artisans at work.
It would require a long stay to discover all that Istanbul has to offer. You need to take time for a boat trip on the Bosphorus, or just to sit and drink tea or coffee, and absorb all the sights and sounds. It's a city teeming with life, brimming with energy and the unexpected. Whatever interests you, Istanbul is sure to have it in abundance.