Enjoy an Exciting Holiday in Fascinating Tangier
Morocco is a North African country that borders the Mediterranean Sea and the North Atlantic Ocean. One of the most popular cities in Morocco is Tangier. The latter is a region known for its beauty and diversity, and it is filled with exciting and interesting attractions and activities. Also called the gateway to Africa, Tangier never ceases to mesmerise holidaymakers from around the world.
Attractions and Activities
Enjoy the Beach Promenade
Tangier is renowned for its oasis of beautiful beaches outside the city. Clean, blue water and pristine golden sand greet visitors on an annual basis. In addition, the close proximity of the area's beaches to the Port creates a thriving environment that is always interesting and enjoyable. For this reason, the beaches in this colourful region are the first stop for many travellers.
Travel Info
Language
Arabic
---
Currency
Dirham
---
Local Time
+1 hours
Weather in Tangier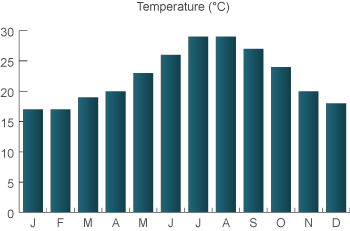 Stroll Through the Librairie Des Colonnes
The Librairie Des Colonnes is often referred to as an Aladdin's Cave of curiosities and treasures. Since 1949 it has been a Tangier institution, and at one time it was a favourite landmark of some of the greatest writers of the 20th century. The building's exterior is old-fashioned and charming, whilst the inside is lined with shelves upon shelves of unique and interesting books.
Sip Mint Tea In Petit Socco
Historically, the Petit Socco Square is a social centre where locals and visitors get together to drink mint tea and watch the hub of excitement as tourists, residents and those visiting the city on business go about their day. Unlike packaged tea found in the Western world, Moroccan mint tea is brewed with fresh mint leaves and pure cane sugar, resulting in a drink that is both refreshing and delicious.
Wander Through the Kasbah
The Kasbah is a gated landmark in which commercial alleyways and residential cobbled streets are found. Visitors gain entrance to the Kasbah through the lovely Bab Haha gate and from there can wander through the streets and discover interesting sites. Also located within its walls is the infamous Place du Menchoar, a 17th century palace now transformed into a Museum and Performing Arts Center.
Tour Saint Andrew's Church
One of Tangier's most fascinating sites is Saint Andrew's Church. Constructed in 1905 as a gift to the church from Moroccan King Hassan I, this favourite tourist landmark is a fusion of various architectural styles that reflect the multicultural population of Morocco. It is a focal point for Catholics in Tangier, but also bears Muslim inscriptions on its Moorish interior. A sight to behold, Saint Andrew's Church belongs on every visitor's must-see list.
Shopping and Dining
Shopping and dining are also fun pastimes in Tangier. One of the best areas for both activities is The Grand Socco, where old meets new. This attraction is a wide road that diverges into many cobbled streets on which marketers sell a variety of fresh foods, dried nuts, apparel, souvenirs, handmade jewellery and other handicrafts. In the centre of the Socco is a beautiful fountain surrounded by benches, and this is an ideal area in which to relax after a morning or afternoon of shopping. The Acima is another great place to buy general merchandise, food, beverages, alcohol, and pastries. This Western-style supermarket is located on Avenue Hariri and is a fun and interesting place to shop.
There are also restaurants in Tangier for those who enjoy dining out when travelling. Among some of the most popular eateries are the Anna e Paolo, the top choice for those who enjoy Italian fare, and the Populaire Saveur de Poisson, for visitors who prefer four-course seafood dinners. Those searching for classic Mediterranean food should visit the El Morocco Club. This restaurant also features a piano bar on its first floor.
Best Time to Visit
Tangier is an interesting and exciting place to visit regardless of the time of year. Average temperatures vary, with the hottest months being July, August and September. However, highs during these months typically do not exceed 28 degrees Celsius, and because humidity is not strong in this area, many people prefer to visit during summer. Winter temperatures rarely drop below 13 degrees Celsius, and November is typically the rainiest month.
There is lots to do and see in this interesting and diverse area of Morocco. Therefore, regardless of when one chooses to visit Tangier, it is guaranteed to be an unforgettable experience.