Ras Al Khaimah Holidays
Ras Al Khaimah is just a 45 minute drive from Dubai and is the perfect getaway for leisure, adventure, and luxury travel destination. Visitors to Ras Al Khaimah will enjoy idyllic sojourns on white sandy beaches and resorts, adventure activities including water sports, micro-lighting, mountain climbing, kayaking and more, as well as an eclectic selection of international gourmet experiences and world-class spas.
Featured Ras Al Khaimah Hotels
Travel Info
Language
Arabic
---
Currency
UAE Dirham
---
Local Time
+3 hours
Weather in RAK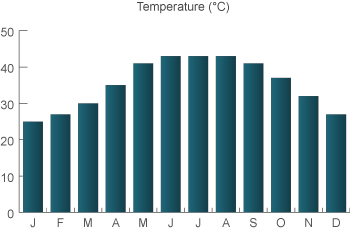 Ras Al Khaimah is one of seven emirates which together comprise the federation of the United Arab Emirates (UAE). The federation is established on December 2, 1971, which included Abu Dhabi, Dubai, Sharjah, Ajman, Umm Al Qawain and Fujairah, where Ras Al Khaimah has joined by February 1972.
Due to its geographical location at the northern tip of the United Arab Emirates, Ras Al Khaimah is literally translated to 'top of the tent' and originally known as 'Julfar'. Its strategic position at the crossroads between the East and West has helped establish it as a trading and services hub between the Far East and Europe.
According to historical records, the emirate dates back to the third millennium BC. Historical documents indicate that Julfar was located in the Shamal area and inhabited by the Azdan Arabian tribe, an offshoot of the Kahlan tribe, which was one of the two branches of Qahtan. In the early 18th century, Al Qawasim (the current ruling tribe of the emirate) set up base in Ras Al Khaimah.
The fourth largest emirate in the UAE, Ras Al Khaimah has a beautiful coastline comprised of 64 kilometres of pristine sand and crystal clear water which covers an area of 2,478 sqm. Known for its milder temperature than the rest of the UAE, Ras Al Khaimah temperature decreases to 10C in January and February.
The Emirate offers a wide range of cultural activities, relaxation packages as well as excursions for sports enthusiasts. Appealing to a wide range of guests, Ras Al Khaimah is becoming known for its hospitality and affordable luxury in the region providing its guest with diverse experiences.
Ras Al Khaimah has its own unique identity with a diversity of landscapes that makes it the perfect getaway for leisure, adventure, and quality-value experiences. The emirate presents an extensive selection of exclusive outdoor adventure activities from mountain climbing and mountain biking to kayaking and fishing. For relaxation visitors to Ras Al Khaimah will enjoy idyllic sojourns at our white sandy beaches and resorts, offering an eclectic selection of international gourmet experiences and world-class spas.
Sunlovers, Funlovers, Naturelovers united in Ras Al Khaimah!
From water sports to desert experiences, from golf to historical sites, from complete relaxation to adrenalin rush and many more exciting activities and places of interest are waiting for you. Let the Arabian adventures begin…
Best Time To Visit
Winter weather in Ras Al Khaimah is mild, but temperatures in summer could soar past 45-degrees Celsius. The cool season runs from December to March, which is the most popular time for tourism. July is the hottest month and usually coincides with the Arabic month of Ramadan. Of course, you can find bargains during the hot season, but many tourists prefer the milder temperatures and signature events of winter.
Ras Al Khaimah Hotels
Hotels include bed and breakfast inns, five-star resorts, Bedouin desert camps and everything in-between. Visitors enjoy private beaches, beach villas, chalet suites and rooms with direct beach access. Championship golf, hotel-sponsored safaris, indoor and outdoor pools and children's playgrounds are just a few of the luxurious amenities available. Some of the most popular hotels are the Doubletree by Hilton, Marjan Island and Rixos Bab Al Bahr, Ras Al Khaimah.
Ras Al Khaimah Attractions
Attractions of the emirate include scuba diving activities, beach blanket relaxation, fishing, boat cruises and even ice skating. Enjoy Arabic café culture, explore the waterfront's restaurants, shop for middle- and upper-level hand-crafted goods or schedule an unforgettable mountain or desert safari.
Distinctive Ras Al Khaimah Shopping
Local souks, boutiques and shopping malls offer a variety of shopping venues for visitors, and the most popular malls include Manar Mall, Al Hamra Mall, Safeer Mall and RAK Mall. Designed in Arabic style, these shopping centres feature gorgeous architecture, unique shopping venues and traditional mall entertainments, dining and amenities.
Ice Land Water Park
Featuring the world's tallest water slide, Ice Land Water Park has more than 103,000 square acres or water attractions, slides, Tundra Baths and penguins. Birthday packages prove attractive drawing cards for families with birthday boys and girls, and business travellers get discounted rates for corporate product launches, business meetings and team-building exercises.
National Museum of Ras Al Khaimah
This 18th century fort once served as home to Qawasim rulers until 1964. Featuring artefacts from archaeological digs and ethnological exhibits, the museum's displays include exciting finds from Julfar, an important port city that thrived from the 13th to 18th centuries.
Jazirat Al Hamra Fishing Village
Reminiscent of spooky ghost towns throughout the world, the Jazirat Al Hamra Fishing Village is one of the best preserved coastal towns in the UAE. Strangely, the residents packed up and left in 1968 leaving behind an unexplained mystery and picturesque setting of stone coral houses, schools, shops and wind towers.
Camel Races
A traditional event in Ras Al Khaimah, camel races take place on weekends during the winter months, and guests can watch camel trainers build stamina and train their desert steeds during the week.
Falcon Shows
The luxurious five-star resort Banyan Tree Al Wadi offers exciting experiences for tourists that include educational classes about birds of prey. The facility keeps a diverse display of falcons, eagles, hawks, kestrels and owls, and the world-class falconry centre offers many family-based activities such as camel safaris, biking and falconry classes.
Dining in Ras Al Khaimah
Guests in Ras Al Khaimah Emirate enjoy the culinary influences of Arabic, India, Chinese and European cultures and abundant fresh seafood, fine wines and local delicacies. Area hotels offer gourmet dining of the highest calibre, and some resorts take sustainability to a new level by offering to prepare the fish that you caught or bought at one of the local fish markets. Open-air dining experiences and beach barbecues are common tourist attractions. Local Emirati food features Lebanese and Indian influences, and visitors enjoy curries, hummus, falafel, kebabs, biryani and fish and lamb dishes.
Holidays to Ras Al Khaimah offer private beaches, adventure parks, family adventure, ancient cultural sites and hotels with every amenity imaginable. Enjoy a camel race or a falcon show, unwind on the beach, explore the Hajar Mountains or kayak among the mangroves. Your Ras Al Khaimah holiday will create memories that last a lifetime, or you can simply relax and enjoy the beach and the area's perfect conditions for diving, sailing, snorkelling and water skiing.
Jebel Jais World's Longest Zipline
Ras Al Khaimah's Jebel Jais – the longest mountain in the UAE, is home to the world's highest zipline……a bucket list attraction for the UAE and the world. The zip line will propel the UAE's most northern emirate into the major leagues of global adventure tourism and cements Jebel Jais as the region's leading active adventure tourism destination.
Thrill-seekers and adrenaline junkies will travel at speeds of up to 120kph to 150kph at a height of 1,680 metres above sea level on top of Jebel Jais Mountain.
The experience will see contestant fitted with a special harness for the adventure, with the longest flight itself taking around 2 to 3 minutes. Once finished, guests will finish the bucket list flight on a suspended landing platform where they will be transferred to a second line to complete their trip back to the ground.