Oman Holidays
Unlike Dubai, Oman holidays provide sunshine, water-based activities and exhilarating desert scenery without the distractions of gleaming towers, indoor ski resorts and artificial islands. Holidaymakers get a more realistic Arab experience that includes historic attractions, sandstone arches and aromatic hints of Arabia's historic frankincense trade. You will discover one of the most diverse and authentic Arab environments in the world when visiting Oman, and the capital city of Muscat was named the Second Best City to visit in the world by Lonely Planet.
The big resort Oman hotels offer all the traditional Western amenities, and the less developed beaches provide kite-surfing, access to coral sea life and opportunities to watch turtles, dolphins, birds and dozens of species of whales. Tourists enjoy riding camels, dune-bashing in four-wheel-drive vehicles, sand-boarding, visiting Bedouin camps in the desert and sleeping under the stars in Barsti huts after enjoying authentic Omani barbecue feasts with colourful Bedouin tribes. The desert, beach and ocean aren't the only exciting natural features---limestone-rich deposits in Oman have created a system of spectacular caves, canyons, arroyos and rocks for climbing, exploring and spelunking.
Travel Info
Language
Arabic
---
Currency
Omani Rial
---
Local Time
+3 hours
Weather in Oman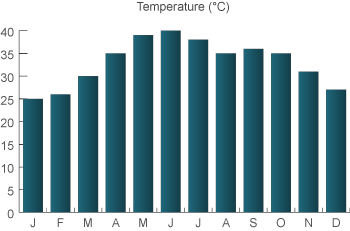 Best Time to Visit the Sultanate
Oman's climate is similar to that of other countries on the Arabian peninsula with hot, humid summers and mild winters. Visiting during the summer could prove uncomfortable for Westerners because temperatures often soar past 40-degrees Celsius, but lush and green Salalah, which is in the south, remains bearable during the summer months. October through April brings ideal weather during the day and comfortable nights and evenings.
Oman Attractions
Oman attractions include modern hotels, all-inclusive resorts, mud-brick villages and spectacular landscapes. From the bustle of the souks in Muscat to the venerable forts and crumbling watchtowers of the starkly beautiful landscape, Oman epitomises old Arabia. Enjoy the cultural heritage, unspoiled mountains, palatial buildings and signature architectural style of Renaissance palaces that have withstood the sands of time. Oman attractions include the following highlights:
Omani Souks
Oman's vibrant souks offer fruits, vegetables, fish, textiles, gold, silver and hand-crafts from talented old-world artisans. Visitors can find historic daggers and muskets, bargain for their dinner, and find genuine Arabian carpets that might just whisk folks away on a magic journey.
Horse and Camel Racing
Horse and camel racing are popular between September and June, and the Royal Stables in Seeb offers many public and private equestrian events throughout the season. Camels are bred for racing, and camel races kick-start many public holiday celebrations.
Muscat Festival
Held between January and February each year, the Muscat Festival features circus performances, art, cultural activities, folklore dances and musical entertainment.
Jabrin Castle
Jabrin Castle, in the town of Wilayat Bahla, has three floors and 55 rooms with exquisite carvings, impressive architectural details and painted flowers on the ceilings.
Sea Turtles
Sea turtles breed prolifically on Oman's beaches, and tourists can visit breeding grounds at Ras Al-Hadd and the Dimaniyyat Islands. In addition to turtles, the islands feature hard and soft corals and brightly coloured tropical fish.
Nizwa Castle
Nizwa Castle features a colossal 45.72 metre in diameter tower that soars 35 metres above the rest of the castle's fortifications of turrets, battlements and false doors. Nizwa served as the capital of Oman in the 17th century.
Rock Climbing
Rock climbing is a popular sport in Oman due to the mountainous landscape, canyons, wadis and limestone formations. Favourite spots include Qantab, Khubrah Canyon, Hadash, Wadi Daykah and The Wall, an indoor rock gym.
Dubai--Muscat Regatta
The annual Muscat Regatta attracts yachts and racers from around the world, and a prize is awarded to the sailor who travels the furthest distance to compete. Sailing activities are popular year-round in the Sultanate of Oman.
The Chedi Muscat
The Chedi Muscat is a five-star resort that has a private beach, 158 rooms, landscaped gardens and a Balinese spa. Visitors and business travellers enjoy multiple restaurants on the premises, a 103-metre Long Pool and 400-square-metre health club. Many couples book weddings at the resort, and the resort's attention to concierge service facilitates having a memorable and pampered experience during an Oman holiday.
Oman's Culinary Influences
Omani cuisine doesn't have any pork and has strong Indian influences. Visitors enjoy strong, cardamom-scented coffee and helva, a pastry made of honey, butter and spices. Guests have plenty of dining options for traditional Western cuisine, fast food choices and gourmet dining in French, Italian, Chinese and Japanese restaurants. During Ramadan, residents refrain from eating and drinking between sunrise and sunset. Visitors often get chances to share meals with Arab families where elaborate meals are served that consist of rice, tomato sauces, spices, oils, dates and meat and fish.
Holidays to Oman provide Western-style relaxation, serene beaches and exciting excursions to the rugged mountains, canyons and surrounding desert. Almost every city has its own fort, and culture lovers can tour dozens of fortresses where Oman's unique architecture, irrigation systems and secret tunnels serve as educational reminders of the area's storied past. Oman features stunning mountains, luxurious hotels, fascinating markets and dramatic landscapes with oases, palaces and desert fortresses.
Top 10 things to do in Oman
#1 - What to do in Oman - Hike and Swim in Wadi Shab
#2 - Observe Turtles at the Ras Al Jinz Reserve
#3 - Explore the Sultan Qaboos Grand Mosque
#4 - Watch Sunrise in Wahiba Sands
#5 - Swim in Wadi Bani Khalid
#6 - Climb on to of the Nizwa Fort
#7 - Get dizzy in Jebel Shams
#8 - Wild Camp Anywhere
#9 - Watch the Fishermen throw nets
#10 - Snorkel or dive