Fujairah Holidays
Fujairah holidays offer many of the same tourist-friendly features similar to Dubai but at a more relaxed pace. Visitors can enjoy major tourist resorts, Arab safaris, rugged landscaping, incredible beaches, Al Hajar mountains and it's the only Emirate with an East coast location. The Gulf of Oman and the Indian Ocean provide one of the world's richest marine environments for sports enthusiasts, divers, snorkellers and naturalists.
Our range of Fujairah hotels includes five-star, all-inclusive resorts, affordable family-activity options and local hospitality without the traffic congestion and commercialism that characterize the UAE's West coast cities.
Best Time to Visit Fujairah
November through to April, the winter season, is the best time to enjoy outdoor activities and cooler weather. The summer months in Fujairah can be hot, humid, and oppressive for Western visitors with high temperatures of around 36°C however, this may be the cheapest time to visit. Evenings are a comfortable temperature year-round so whenever you choose to visit there will be times in the day that are cooler. Visitors should check when the month of Ramadan falls each year on a Ramadan calendar as some places close during the day and won't sell food or alcohol. Most major hotels however do continue to operate normally during the month of Ramadan.
Travel Info
Language
Arabic
---
Currency
UAE Dirham
---
Local Time
+3 hours
Weather in Fujairah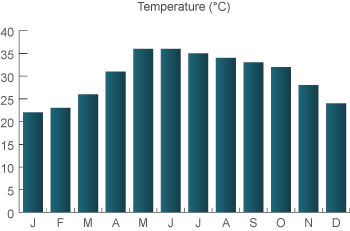 Fujairah's Main Attractions
Although Fujairah is the youngest Emirate it is still highly developed, you can find many exciting excursions, enjoy luxurious pampering, desert and mountain safaris, and relax on some of the world's most stunning natural beaches.
Wadi Wurrahya Waterfall
The Wadi Wurrahya Waterfall offers stunning views of emerald-green date orchards, towering Al Hajar peaks and elusive native wildlife. The area is the UAE's first protected mountain where visitors can enjoy the region's delicate ecosystem, stunning cascades and exciting scenery in an area that is protected by law.
Bullfighting
Bullfighting in the Emirate of Fujairah is different from the Spanish version and involves spectators actually wrestling with the massive Brahman bulls. Less barbaric and bloody than its Western counterpart, Fujairah bullfighting lasts just over a minute and tests the relative strength of the animals.
Haggling at the Souq
Feel part of the community and haggle in the local markets or souqs to buy vegetables, fruits, toys, pottery, plants, carpets and handcrafts. The Masafi Friday Market, or Souq al Juma, offers a great place seven days a week to buy antiques, souvenirs, mats, rugs and Afghani and Pakistani products, so you can fully immerse yourself into Fujairah's culture and shop for souvenirs to take home.
Visiting Al Bidyah Mosque
The Al Bidyah Mosque is the oldest mosque in the UAE, and its origin estimated to be as early as 1446 CE. Both women and men are welcome to visit however, women should make sure they cover their heads and shoulders with a scarf in respect to the Arabic culture. Located 38 km north of Fujairah, the mosque showcases early engineering and distinctive architecture.
Fujairah City Centre
Featuring 34,000 square feet of retail shopping, dining, and entertainment, Fujairah City Centre is the largest complex of its kind in the Emirates. You can enjoy relaxed shopping in speciality and gift shops as well as some known brands, signature dining and entertainment such as a cinema. Shuttle services transport guests from various beach resorts to this premier shopping destination.
Heritage Village
Heritage Village is an open-air living museum that showcases traditional Arabic fishing village life. Exhibits include tools, utensils, fishing boats and irrigation systems used to grow food in the desert. There are traditional demonstrations from people showcasing their handicraft work. This is a great little location to get a feel of Fujairah's history.
Khor Kalba Beach
One of Fujairah's most beautiful beaches, located between the nature reserve and the emirate of Fujairah. Khor Kalba beach gives you beautifully pristine sands and turquoise waters. Stretching over7 kilometres, visitors come here to spot endangered wildlife such as the hawksbill turtle and the Arabian-collared kingfisher, with its serene waters this is a great place to relax.
Fujairah Museum
The Fujairah Museum is a showcase of history with artefacts from local archaeological digs at Qidfa, Bithnah and other sites, as well as ethnography exhibits from a millennium of Arab culture. Built at the site of a fort that dates over 340 years old, the museum possesses living ruins, a modern museum, and a reinstated town.
Ain Al Madhab Gardenand Hot Springs
These extensive gardens draw nourishment from warm sulphur springs near the Fujairah Museum. The park is located below the foothills of the mountains of Hajar, featuring two swimming pools, an outdoor theatre, and a natural environment of 39,000 square feet of parkland.
Fujairah Culinary Scene
The cuisine of Fujairah includes Indian, Chinese, and European influences as well as cuisines from all the Arab countries from Saudi Arabia to Tunisia. Local cuisine features wheat, barley, yoghurt, fish, dates and meat from sheep, goats, and camels. High-profile, five-star dining is quite popular, and visitors can enjoy the annual East Coast Culinary Competition in Fujairah where chefs create signature masterpieces. With traditional Arabic music provided a sophisticated ambience is created with the fusion of flavours and exceptional gourmet food enough to satisfy any palate.
Holidays to Fujairah offer all the luxurious amenities of its more famous holiday destination Dubai, but with a calmer slower pace allowing you to really soak up the culture and history of the Middle East. Allowing greater privacy and the unique perspective of having the majestic Al Hajar Mountains and Arabian Sea as backdrops to beachside and water-based activities. Spend a day visiting the souqs, take the family on a desert safari, explore the mountains and Wadi WurrahyaWaterfall, or enjoy many sophisticated nightlife and entertainment options.
Looking to book your holiday to Fujairah?
Enquire today and request a quote for one of our amazing value holidays to Fujairah, from luxury hotels to 5-star all-inclusive we have so many opportunities for your next dream holiday.