Abu Dhabi Holidays
Spice defines Abu Dhabi holidays: Spicy temperatures, Middle Eastern food, haggling in the souks, hot temperatures near-year-round create a spicy, otherworldly stew of delights for the visitor. Miles of beaches, hot temperatures year-round and cloud-busting skyscrapers just begin the list of attractions in this high-profile United Arab Emirates destination. Traditional crafts, evolving exhibits, and desert adventures preserve the magical quality of "1001 Arabian Nights" from Scheherazade's collection of Persian, Arabic, Indian and Mesopotamian tales of flying carpets, genies, souks and desert bandits. The magic includes tales of extra-terrestrials because Abu Dhabi Western region provided the back-drop for "Star Wars – The Force Awakens" Episode VII of the science fiction series"
Top Holiday Deals to Abu Dhabi
Featured Abu Dhabi Hotels
Travel Info
Language
Arabic
---
Currency
UAE Dirham
---
Local Time
+3 hours
Weather in Abu Dhabi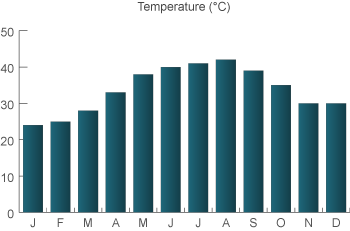 Like in Dubai, visitors to Abu Dhabi find luxury, Arabian Hospitality and fascinating history in this world-renowned travel destination. Investment and development of Abu Dhabi has transformed the former fishing village to an international leisure destination with one-of-a-kind amenities. Abu Dhabi hotels for all tastes and budgets and Arabian Gulf attractions that eclipse other beach vacations. Visitors can enjoy tranquil fishing villages, crumbling desert fortresses, dune adventures among Bedouin tribes and ancient historical, religious and cultural sites while staying at indulgent three- four- and five-star hotels and resorts.
Best Time to Visit
The United Arab Emirates enjoys a hot climate and little rain, so holidays work well no matter when you travel. The busy season is from November to April when temperatures are coolest, and these dates are perfect for outdoor adventures, beach activities and water-based sports. Temperatures vary from 15-degrees to 35-degrees Celsius. During the summer months, the heat can rise to 40-degrees or higher, but visitors can find bargains on hotels, enjoy indoor decadence at all-inclusive resorts or take cruises on one of the many luxury vessels in the Arabian Gulf. The Islamic month of Ramadan varies each year, so check the dates before travelling because many restaurants close during the day when public drinking and eating are forbidden.
Landmarks and Attractions
Abu Dhabi has some the most iconic landmarks, intriguing historical sites and exciting leisure activities of any tourist destination in the world. Skilfully blending old and new, the Emirates' capital city features the world's largest theme park, nearby desert dunes that tower 100 metres in height, wildlife sanctuaries and championship gold courses. Major landmarks include:
1. Emirates Palace
The Emirates Palace, a five-star resort with suites furnished in gold and marble, offers an enviable conference centre, private beach, acres of gardens and 114 domes that recall Arabic architectural splendour. Emirati royalty and dignitaries stay on the top floor in the six Rulers' Suites. In 2010, the property featured the world's largest Christmas tree, valued at £6,535,100.
2. Oasis City of Al Ain
Nearby Al Ain features a national museum, palm plantations and shady walkways where visitors can escape the heat and bustle of the city. Encompassing more than 1,200 hectares, the oasis uses a 3,000-year-old falaj irrigation system to water more than 147,000 date palms.
3. Yas Island
The island has complimentary shuttle service to Yas Beach, Gateway Park, the mangroves and other attractions. Enjoy boating at the marina, clubhouse golf and relaxation and seaplane excursions.
4. Sheikh Zayed Grand Mosque
Visit the city's most revered destination, and view the 82 domes that serve as stunning examples of classic Arabic, Moorish and Mughal architecture. Features of the mosque include the world's largest chandelier and hand-knotted carpet and vast interior capacity to accommodate 40,000 people under 24-carat gilded chandeliers.
5. Saadiyat Island
island of happiness" – is blessed with a 9 km stretch of perfect white sand beach with a view of the turquoise Arabian Gulf. The idyllic beachfront is home to two 5-star resort hotels (St. Regis Saadiyat Island Resort and Park Hyatt Abu Dhabi), and a championship ocean golf course. An ambitious cultural district is being developed on the island – attractions will include the Louvre Abu Dhabi, set for its much anticipated opening very soon, and Zayed National Museum and Guggenheim Abu Dhabi are planned in the future.
6. Deserts and Drama
Desert camps, oases and safaris provide stimulating family adventures, unique recreational activities like sandboarding and dune bashing and camel or four-wheel dune-exploring.
7. Al Forsan International Sports Resort
This comprehensive sports centre offers water sports, equestrian facilities, fitness and leisure activities, shooting practice and extreme paintball for adrenaline addicts.
8. World-class beaches
There is a beach for everyone in Abu Dhabi. Families will love the Corniche for its Blue Flag Status beach and designated play areas, water sports enthusiasts will enjoy Yas Beach where there is plenty of activities to choose from and for those wanting to totally relax, Saadiyat Island offers a quiet stretch of pristine beach with no motorised water ports.
9. Louvre Abu Dhabi
The Louvre Abu Dhabi is an art and civilization museum, located in Abu Dhabi, UAE. The museum was established in 2017.
Museum Galleries:
Louvre Abu Dhabi's museum galleries tell the story of humanity in twelve inspiring chapters. Each chapter focuses on shared themes and ideas that reveal common connections throughout humanity.
Exhibitions:
Louvre Abu Dhabi hosts four temporary exhibitions per year. These temporary exhibitions will follow the same thematic approach as the permanent collections in the Museum Galleries, highlighting comparisons, influences and ideas shared ideas across civilisations and cultures.
Children's Museum:
The experience of learning is at the heart of the Children's Museum. Centrally located across two floors, this specially designated section of Louvre Abu Dhabi hosts family-focused exhibitions and interactive workshops in Arabic and English. The aim is to inspire young minds by teaching children about artistic techniques and ideas.
10. Shopping
Whether you want to wonder around the souks or enjoy the benefits of tax-free shopping in a high-end designer shop, Abu Dhabi will offer you all this and more.
Unique Attractions of the Arabic Culture
Holidays to Abu Dhabi offer an astonishing range of attractions, towering architecture, tax-free shopping and stimulating outdoor adventures. Embrace the Arabic culture, try home-grown coffee, outfit the family for a camel safari or relax at one of the surprising number of golf courses. From golden beaches to the fantasy islands that engineers are building off the coast, this premier destination offers an awesome mix of top-drawer attractions for tourists, renowned artistic events and old-world coastal and desert excursions. You might even have a close encounter with aliens from a galaxy far, far away because J.J. Abrams has moved production of Episode VII of the Star Wars franchise to this stunning desert country.
NEW! Abu Dhabi Tourism & Culture Authority, and The Department of Municipal Affairs and Transport have announced the municipal fees to be collected on hotel stays in the emirate of Abu Dhabi from 1st June 2016. The fee amounts to 4% of a guest's bill for their hotel stay, plus a 15 dirham per night per room charge, both of which come into force.