Abu Dhabi Holidays
Abu Dhabi conjures images of beautiful blue skies, powder-white beaches and glittering skyscrapers. But there's more to this enticing emirate than meets the eye. Just a seven-hour flight from the UK, Abu Dhabi offers all-but-guaranteed sunshine and no shortage of attractions.
Gone are the days when Abu Dhabi was just a stopover city en route to the East. Today's Abu Dhabi is a 'must see' destination in its own right, regularly surprising visitors with its astonishing diversity. Where else on earth can you ride the world's fastest rollercoaster? Spend a night in a hotel that straddles an F1 racetrack? Walk on the world's largest carpet beneath the domes of the majestic Sheikh Zayed Grand Mosque? Or track cheetahs in the morning on a 4x4 safari before snorkelling in the afternoon in the warm, inviting waters of the Arabian Gulf?
Top Holiday Deals to Abu Dhabi
Featured Abu Dhabi Hotels
Travel Info
Language
Arabic
---
Currency
UAE Dirham
---
Local Time
+3 hours
Weather in Abu Dhabi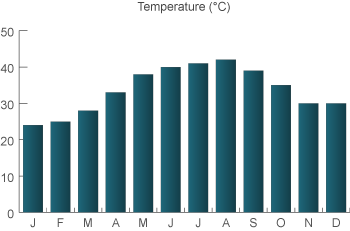 Like in Dubai, visitors to Abu Dhabi find luxury, Arabian Hospitality and fascinating history in this world-renowned travel destination. hotels for all tastes and budgets and attractions that eclipse other beach vacations, visitors to Abu Dhabi can enjoy. desert fortresses, dune adventures and ancient historical, religious and cultural sites while staying at indulgent three- four- and five-star hotels and resorts.
Best Time to Visit
The United Arab Emirates enjoys a hot climate and little rain, so holidays work well no matter when you travel. The busiest time is from November to April when temperatures are coolest, perfect for outdoor adventures, beach activities and water-based sports. During the summer months, the heat can rise to 40°C -degrees or higher, but visitors can find bargains on hotels, enjoy indoor decadence at all-inclusive resorts or cool off at stylish beach clubs or white-sand beaches. The Islamic month of Ramadan varies each year, so check the dates before travelling as opening hours of attractions and restaurants can be affected.
Landmarks and Attractions
Abu Dhabi has some of the most iconic landmarks, intriguing historical sites and exciting leisure activities of any tourist destination in the world. Skilfully blending old and new, the UAE capital features the world's largest indoor theme park, desert dunes towering 100m, wildlife sanctuaries and championship golf courses. Major landmarks include:
1. Emirates Palace
Stretching over a kilometre from wing to wing, this national landmark is one of the world's most opulent hotels. It's set on 1.3km of private, pristine beach on the city's magnificent Corniche, with suites furnished in gold and marble, acres of gardens and 114 domes of Arabic architectural splendour. Emirati royalty and visiting dignitaries stay on the top floor in the six Rulers' Suites to feel like a royal yourself, try their world-famous cappuccino with real gold flakes!
2. Oasis City of Al Ain
For an authentic taste of Abu Dhabi's heritage, take a 90-minute drive to the historic fortresses and rustic charm of Al Ain, one of the world's oldest permanently inhabited settlements. Experience the traditional camel market before unwinding at the Al Ain Oasis, the first UNESCO World Heritage Site in the UAE, which uses a 3,000-year-old falaj irrigation system to water more than 147,000 date palms. Thrill seekers shouldn't miss Wadi Adventure a man-made white water rafting, kayaking, surfing, and wakeboarding facility.
3. Yas Island
Abu Dhabi's blossoming entertainment destination has an attraction to suit every taste. Visit Yas Marina Circuit, home to the Formula 1 Etihad Airways Abu Dhabi Grand Prix, for on-track racing experiences. Ferrari World Abu Dhabi is home to two record-breaking rollercoasters, the world's fastest at 240 kmph, and the world's tallest inverted loop at 52m. Meet all your favourite characters at Warner Bros. World Abu Dhabi or make a splash at Yas Waterworld, voted the best waterpark in the Middle East. Brand new to open on the island is CLYMB Abu Dhabi – an indoor facility offering the world's tallest climbing wall and widest skydiving chamber.
4. Sheikh Zayed Grand Mosque
Of all the city's landmarks, none is as synonymous with Abu Dhabi as the stunning Sheikh Zayed Grand Mosque, which came third in TripAdvisor's list of the world's top 25 landmarks in 2018, beating the likes of the Taj Mahal in India. Able to accommodate more than 40,000 worshippers, it boasts 82 domes, more than 1,000 columns, 24-carat-gold gilded chandeliers and the world's largest handmade carpet, which weighs 35 tonnes and took 1,200 women two years to make. Complimentary guided tours are offered daily.
5. Saadiyat Island
Its name meaning 'happiness"', Saadiyat island – is blessed with turquoise waters and 9 km of pristine white sand, where hawksbill turtles come to nest each spring. The idyllic beachfront is home to five 5-star resorts and a championship ocean golf course. An ambitious cultural district is being developed on the island, – with Louvre Abu Dhabi open since 2017 and Zayed National Museum and Guggenheim Abu Dhabi planned for the future.
6. Deserts and Drama
No trip to Abu Dhabi would be complete without some desert adventures. Just beyond Abu Dhabi city is the Rub Al Khali, or Empty Quarter, the largest expanse of sand in the world, recently depicted in Star Wars: The Force Awakens, as the desert planet of Jakku. Take a day trip for dune bashing in 4x4s, camel trekking, sand surfing, and dinner beneath the stars. Or, escape the dunes for an open jeep safari on Sir Bani Yas Island, home to thousands of free roaming oryx, gazelles, giraffes, and even cheetahs.
7. Qasr Al Watan
Newly open is Qasr Al Watan, or 'Palace of the Nation', the stunning palatial Presidential Palace which has been off limits to the public until now. Visitors are granted access to halls typically reserved for official state guests and can explore a collection of diplomatic gifts received from visiting Heads of State and foreign dignitaries, displayed to the public for the first time. Each evening a spectacular 15-minute 'Palace in Motion' light and sound show takes place on the exterior of the Palace, telling the story of Qasr Al Watan and the UAE's past, present and future.
8. World-class beaches
There is a beach for everyone in Abu Dhabi. Families will love the Corniche for its 8km beach with Blue Flag Status, lined with restaurants and designated play areas. wWater sports enthusiasts will enjoy Yas Beach where there are is plenty of activities to choose from, plus stylish beach lounge complete with DJ booth and infinity pool. For those wanting to totally relax, Saadiyat Island offers a quiet stretch of pristine beach with no motorised water sports. Or there's Zaya Nurai, a private island resort more akin to the Maldives than the Arabian Peninsula.
9. Louvre Abu Dhabi
The magnificent Louvre Abu Dhabi establishes Abu Dhabi as the cultural hub of the Middle East, with a permanent collection complemented by masterpieces on loan from key French institutions, including works by Titian, Rodin, Picasso and Matisse. The galleries tell the story of humanity in twelve inspiring chapters. Each chapter focuses on shared themes and ideas that reveal common connections throughout humanity. Louvre Abu Dhabi also hosts four temporary exhibitions per year, which follow the same thematic approach as the permanent collections.
The works are displayed under a giant 180-metre-wide metal dome which weighs the same as the Eiffel Tower, and was designed to emulate the palm trees of Abu Dhabi, with a rain of light filtering through the canopy of 'leaves'.
Louvre Abu Dhabi also features a fantastic Children's Museum, in a special two-floor section of interactive learning and fun, as well as a rooftop café, which allows visitors to their day with sunset views of the Arabian Gulf.
10. Shopping
So good is the shopping in Abu Dhabi that it's become something of a national pastime. With luxury shopping malls and local markets offering everything from gold and designer watches to carpets and textiles, the city's shopping options are as eclectic as it comes. Hit the souks for local souvenirs like spices, perfumes, silks, henna, or dallah (Arabian coffee pots). Or cool off in one of the modern malls where you'll find everything from high street to ultra high end. Ask the cashier for a tax invoice in order to claim back the VAT when departing at the airport!