Mesmerising Petra for an Unforgettable Getaway
Petra is an ancient city in Ma'an, Jordan, and is one of the new seven world wonders. Famous throughout the world for its rock-cut architecture, Petra was constructed around 1200 BC and has remained virtually unchanged ever since. A Unesco World Heritage Site, its silent canyons, honeycomb tombs, and wind-whittled landscapes show human history on a massive scale.
Visitors are welcome to Petra, also referred to as the 'Ancient City,' and the townspeople of Wadi Musa, a neighbouring city, have created facilities to make touring as easy as possible. However, a visit to Petra demand's time, as the sheer breadth of the site is quite expansive and crosses over hills, dry river beds, and narrow slot canyons.
Attractions and Landmarks
The Siq
The 1.2 kilometre canyon, or siq, with its tall, narrow walls, is arguably one of the best areas of Petra. This corridor snakes majestically toward the hidden city and builds anticipation for travellers along the way. Sometimes referred to as the 'magical corridor,' the siq is a great starting point for Petra visitors.
Travel Info
Language
Arabic
---
Currency
Jordanian Dinar
---
Local Time
+2 hours
Weather in Petra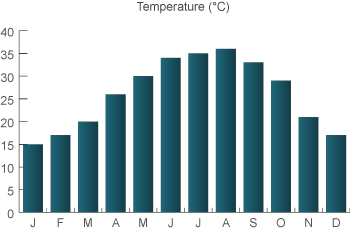 Petra Theatre
Originally constructed by the Nabataeans thousands of years ago, the Petra Theatre was chiselled out of rock, and then later enlarged by the Romans to hold approximately 8500 people. The Theatre sustained significant damage in an earthquake, but was partially rebuilt and still remains a highlight of Petra.
The Ancient City Monastery
Hidden high in the hills of the Ancient City, the Petra Monastery is one of the area's most legendary landmarks. Initially built as a Nabataean tomb, it may have been used as a church in Byzantine times. The ancient rock-cut path follows the old processional route and features more than 800 steps.
Royal Tombs and Treasury
The Royal Tombs can be accessed by stone steps that ascend from the bottom of the Theatre. It is not known exactly how many people are buried in the Royal Tombs, but the architecture and stone cutting technique used to create this area make it a favourite stopping point amongst Petra visitors. In addition, the area is home to an astonishing piece of craftsmanship referred to by locals as the 'Treasury.' This iron laden sandstone tomb is believed to be the burial place of Nabataean King Aretas III.
Petra Lookout
Beyond the Monastery and the Royal Tombs is an eyrie that sits atop a steep precipice. It is one of the best places in the entire area to enjoy breathtaking views of Petra and its surroundings.
Shopping and Dining
There are plenty of places to enjoy a meal near Petra and shopping opportunities abound as well. The Basin Restaurant is by far the most popular establishment for Petra tourists, and serves a broad range of international dishes, including Mediterranean fare, Chinese cuisine, Western dishes, halal-certified foods and a healthy selection of fresh fruit and vegetables. The Top Choice International Restaurant and the Red Cave Restaurant in Wadi Musa are also excellent choices. Those searching for a restaurant that specialises in Jordanian food should definitely try the Al Qantarah, also located in Wadi Musa.
The Ancient City is filled with many shops and marketplaces as well. Umm Raami's Jewellery Shop sells silver and beaded pieces that are handmade by local women. The Wadi Musa Arts and Crafts Shop is a great place to purchase embroidery, ceramics, soap, olive oil, and a variety of handicrafts.
One may also wish to visit the Indiana Jones Gifts Shop located in Petra's Outdoor Shopping Complex and Visitors Centre. The Andalusia Bazaar is another terrific outdoor market that offers a broad range of souvenirs and a good selection of one-of-a-kind hand blown glass items.
Best Time to Visit
Autumn and spring are considered the best times to visit Petra, as the days are warm, but not exceedingly hot, and nights are cool and comfortable. However, this is also the most crowded time regarding tourism to Petra. During the summer months, temperatures may reach into the 40Cs, but visitors who are not adversely affected by heat may wish to consider these months, as sites such as Petra are not at all crowded at these times.
Whether planning a Jordan holiday around Petra or simply visiting this beautiful site as a day trip, no visitor ever regrets experiencing this mesmerising, man-made wonder.