Aqaba Holidays
Located in southern Jordan, Aqaba is often called Jordan's Window on the Red Sea. Aqaba is known for its laidback, small-town atmosphere, as well as for its friendly residents. The town provides a sociable layover for those travelling to Petra, Wadi Rum, or other larger destinations.
Choose Aqaba for an Outstanding Red Sea Holiday
Even though the town is not teeming with tourists as are other parts of Egypt, there are many interesting things to see and do in the region. Those who enjoy the outdoors are typically quite pleased with what they find in Aqaba. Additionally, the area offers terrific photo opportunities, as visitors can use the backdrop of the Red Sea to create stunning pictures.
Attractions and Activities
Aqaba Bird Observatory
This renowned bird sanctuary in Aqaba is a man-made wetland that hosts a broad range of avian life. Operated by the Royal Society for the Conservation of Nature, the wetland is a stopping point for massive numbers of birds as they migrate amongst Asia, Europe and Africa. The observatory features a 1.5 kilometre walking trail, which is surrounded by several lakes. The Aqaba Bird Observatory is an ideal spot for those who enjoy birdwatching or simply walking or hiking in the great outdoors.
Travel Info
Language
Arabic
---
Currency
Jordanian Dinar
---
Local Time
+2 hours
Weather in Aqaba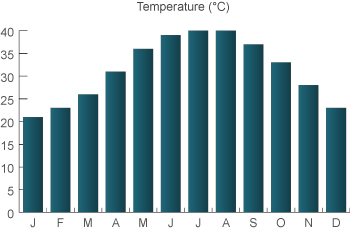 Aqaba Fort
The Aqaba Fort was constructed sometime between 1510 and 1517 BC, as proven by the Arabic inscriptions found inside the gateway to this impressive monument. At one time, the Fort was used as a travellers' inn for those on a pilgrimage to Mecca. An interesting and unusual structure, the Aqaba Fort is definitely worth viewing.
Heritage Museum
Also found at the southern end of the city is the Aqaba Heritage Museum. Dedicated to the initial Islamic settlers of the area, the Museum features displays concerning local history, religion and wars. Just behind the museum is an ancient Roman church, which is believed to be the oldest Christian church in history. Tours of the structure are available during peak season, and a posted sign in front of the building offers a detailed history of the church.
Water Sports
Aqaba is also a great place for travellers who enjoy water sports, and many dive centres are located in the region. In general, diving in Jordan can be quite costly, but Aqaba diving rates are typically competitive. Kayaking, windsurfing, jet skiing and waterskiing are also sports that are offered to holidaymakers between the months of March and October.
Glass-Bottom Boats
Visitors who cannot find time to go snorkelling or diving should consider an excursion on a glass bottom boat. Those who take a glass bottom boat tour away from the central Aqaba region can view a vast array of coral formations and fish species. These enjoyable boat tours last approximately two to three hours, and they are usually offered year-round.
Shopping and Dining
Aqaba offers a broad range of food choices to visitors. For snacks and grills, the restaurants and stalls along Raghadan Street and King Street are the best options. There are also plenty of sophisticated modern restaurants in the newest parts of town, particularly on both sides of As Sadah Street. Aqaba's signature dish and favourite food among local residents is sayadieh, which is delicately spiced fish served in an onion and tahini sauce over rice. There are also many beach cafés located along the Corniche between the Marina and the Aqaba Fort.
Some of Aqaba's best shopping opportunities are found in the older part of town, in the celebrated souq. Here, shops abound and holidaymakers can find virtually any items for which they are looking, from nuts and spices, to Dead Sea products and colourful Arab headscarves. Handmade souvenirs, homemade soap, and gold and silver jewellery can also be found in the souq. Those searching for specific gems, such as lapis lazuli, amber or turquoise, will find there are several stores between An Nahda Street and King Hussein Street that carry jewellery of this kind.
Additionally, Aqaba's special economic status allows merchants in the area to offer a wide variety of duty-free goods to holidaymakers. This is a great benefit to those who plan to do a significant amount of shopping whilst visiting the area. Whether organising a shopping trip, indulging in water sports or taking advantage of great photo opportunities at Aqaba's many landmarks, holidaymakers are sure to have a one-of-a-kind experience in this beautiful region.