Sri Lanka Holidays
Sri Lanka holidays offer Western amenities, cultural diversity, amazing island adventures and all types of beach and water-based activities. Hot and tropical along the coasts, visitors can enjoy the various mountains and plateaus where temperatures are cooler and flora and fauna are biologically diverse. Known as Ceylon until 1972, the country has more than 3,000 years of documented history, colonial charm, Indian Ocean water-sports activities, bespoke tours, colourful temples and religious artefacts.
The island is home to four major religions in a temperate climate, so outdoor festivals occur year-round. If one side of the island is experiencing bad weather, then the other side is likely to have superb conditions for holidaymaking. Visitors can enjoy the national parks, mountains, beaches, cultural attractions, religious shrines, UNESCO World Heritage Sites and beautiful beaches, but prepare to spend at least two weeks on the island to sample Sri Lanka's charms.
Featured Sri Lanka Hotels
Travel Info
Language
Sinhalese & Tamil
---
Currency
Sri Lankan Rupee
---
Local Time
+4:30 hours
Weather in Sri Lanka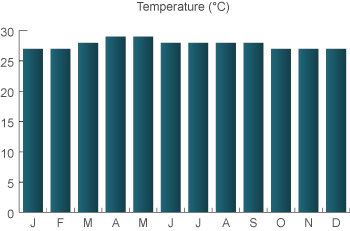 Best Time to Visit
Temperatures vary throughout the country, but the island does get monsoons from late May to September and November to February but on different sides of the island. Unlike other islands and travel destinations, Sri Lanka really does claim year-round desirability as a holiday destination. Summer months are hot from June to September but cooler in the mountains. Monsoons generally come from one direction, so you only need to schedule your visit on the other side of the island to avoid excessive rains.
Sri Lanka Major Attractions
Sri Lanka hosts many festivals throughout the year due to the country's religious diversity and harmonious relationships among the island's followers of Hinduism, Buddhism, Christianity and Islam. Attractions include outdoor recreation of all types, naturalism, more than 3,000 years of cultural sites, white-water rafting, boating, medical tourism and spas and meditation centres for relaxation. Top attractions of the island include:
- Anuradhapura Ruins
This sacred city hidden in the jungle served as a Celanese religious and political capital for 1,300 years before being abandoned in 993 CE. Featuring palaces, monasteries and monuments, the ruins are now a UNESCO World Heritage Site. Visit the ancient fig tree where Lord Buddha was purported to have reached enlightenment.
- Dambulla
This city features the Rangiri Dambulla stadium, Dambulla cave temple complex, the largest range of rose quartz peaks in southern Asia and spectacular coral reefs and beaches.
- Bentota
Thais coastal city is famous for an alcoholic drink made from coconut nectar and its luxurious hotels and golden beaches.
- The Sigiriya
An ancient rock fortress that resembles a stone lion, this site in the Matale District features reservoirs, gardens and ancient fresco paintings alongside the remains of buildings.
- Astonishing Varieties of Wildlife
Sri Lanka generates ideal conditions for biological diversity, and the island is home to 433 species of birds, 190 species of reptiles, 92 species of mammals, 242 types of butterflies, 106 species of amphibians and 3,210 species of flowering plants. Blue whales, sperm whales, dolphins and 26 species of aquatic mammals live and play along the coast, and exotic land animals include Sri Lanka Asian elephants, sloth bears and herds of sambar deer.
- Unspoiled Kalpitiya
Kalpitiya in the Puttalam area is a closely knit fishing community where visitors can interact with village residents, watch the fishing boats return and choose their dinner's entrée fresh from the day's catch. Local highlights include St Peter's Kerk church, the Dutch Fort, Jeep rides along the sand dunes and canoe trips on the river.
- Horton Plains National Park
The Horton Plains National Park offers family adventures, recreation and animal watching in the highlands of Sri Lanka on a plateau that ranges from 2,100 to 2,300 metres above sea level. Visitors enjoy spectacular waterfalls like World's End and Baker's Falls, at least 87 bird species and many native mammals, reptiles and amphibians. The park is a natural habitat for long-clawed shrews, toque macaques, Sri Lanka leopards, giant squirrels and purple-faced langurs. European otters and fishing cats inhabit the wetland areas of the park.
Sri Lanka Tours
Professional tours are a great way to see Sri Lanka, and visitors can choose bespoke itineraries that focus on beaches, wildlife, culture, historic sites or festivals. Sri Lanka has a long and fascinating history, diverse communities, bird and animal sanctuaries and multiple religions, so tourists have choices of staying in luxurious resorts, visiting quaint villages, enjoying the incredible beaches and water-based sports and discovering the melting-pot history of native influences and British colonialism. Tours include such electrifying events as whale watching, wildlife safaris, cricket tours, scuba diving and traditional holidaymaking pursuits such as snorkelling, kite surfing, cycling, swimming, boating and fishing.
Holidays to Sri Lanka provide gorgeous beaches, salty lagoons and ancient Buddhist architecture and art in an environment reminiscent of Britain's colonial past. The small nation offers some of the most biologically and culturally diverse attractions of any destination in the world, and visitors will thrill at the sights, colourful temples, ancient ruins, stunning landscapes and cultural attractions.
Reason to visit Sri Lanka
Diversity
With many sites and scenes bottled up in to a small island, a traveler could be riding the waves in the dawn and admiring the green carpeted mountains by dusk. Travel destinations in Sri Lanka provide an array of holiday experiences from beach holidays to a marathon of wildlife watching, adrenaline pumping adventure sports and pilgrimage to some of the oldest cities in the world. With so many cultures living next to each other, life in Sri Lanka offers a series of festivities throughout the year.
Ayurveda
Ayurveda & Spas
Well-being for all senses is part of Sri Lanka's tradition: Ayurveda, the 2000 year old Indian medicine, is still very popular in Sri Lanka and visitors coming to the island for ayurvedic treatments are very often repeaters. Those who don't have the time for a two or three weeks stay at one of the health resorts, find Ayurveda massages, meditation, yoga lessons or spas in many hotels. Sri Lanka is definitely a perfect place for relaxation.
Cultural Heritage
The small island is proud of eight UNESCO World Heritage sites, which can be visited within one week. These include historic Galle in the south of the Island with its famous fort from the Dutch colonial period. In the heart of Sri Lanka, right in the mountainous jungle, Kandy, the hidden kingdom and the religious capital, awaits to be discovered. The gigantic monolith Sigiriya and the ancient cities of Anuradhapura and Polonnaruwa are also worth seeing – as well as the cave temple of Dambulla, the Sinharaja Forest Reserve and the Central Highlands.
A Year-Round Destination To Holiday
Perfectly sandwiched between 02 monsoons, the west and southern regions of the island are sunny and dry between November to April whereas east and north get their share of sunshine between May and October, which makes Sri Lanka ideal to travel throughout the year.
26 National Parks & Wildlife Sanctuaries to Explore
From Yala National Park, which records the highest leopard density in the world, to Minneriya where the planet's largest phenomenal elephant gathering occurs annually and far-flung Delft Island with its wild ponies and the Pigeon Island with its vivid coral life – wildlife is preserved in its natural habitat across 5700 sq.km of national parks and wildlife sanctuaries in the Island.
SPIRITUAL EXPERIENCES
Buddhism has become extremely popular in Western countries and in Sri Lanka visitors can experience the pure teachings of Buddha, mix with the local Buddhists at places of pilgrimage and plunge into the popular belief of the Singhalese. One of the most important relics of Buddhism, a holy molar, is preserved in the temple of the Dalada Maligawa in Kandy. Visitors can join the daily poojas (praying ceremonies)and once a year a magnificent procession, is dedicated to the holy relic. Another important place of pilgrimage is Adam's Peak, a holy mountain to Buddhists, Hindus, Christians and Muslims alike. Visitors can join the walk up to the peak to enjoy the sunset and the spiritual atmosphere.
08 Unesco World Heritage Sites to Rediscover
Among the 06 Cultural Heritage Sites are the Sigiriya Rock citadel, the colonial Dutch Fort of Galle, known to be the best preserved colonial sea fort in Asia and the Kandy city. The 02 Natural Heritage Sites spread across a vast mountainous area include the Sinharaja Rain forest, enigmatic Adam's Peak mountain, the Knuckles mountains and the Horton Plains with its renowned trek to the 'World's End'.
The Maldives Just an Hour Away
The inconsiderable distance and frequent flights have made it popular among travelers to combine Sri Lanka with Maldives during their vacations in South Asia. A round tour in Sri Lanka, is often booked along with a beach break in Maldives.
Arugam Bay - One of The Top 10 Surf Points In The World
Known to be the best surf spot in the island and naturally blessed with a variety of breaks suitable for novices and pros alike, Arugam Bay comes alive between May to October. Don't be dispirited if you are new to the sport. There are a number of schools and outlets where you can have a lesson or rent a board.
'Esala Perahera' - The Most Colorful Street Festival in Asia
Mountainous Kandy city annually hosts the world's oldest recorded religious street procession, which is in honor of the sacred tooth relic of the Lord Buddha. Over a hundred of spectacularly costumed majestic elephants, hundreds of drummers and dancers parade through the night streets in this epic festival for ten days, ending on the full-moon night in August.
ENGLAND'S CRICKET TOUR OF SRI LANKA IN OCT/NOV 2018
England Cricket Team will arrive in Sri Lanka on the 1st October, 2018 for a Bilateral Series, which will consist of 5 ODIs, 03 Test Matches and 01 T20 game.
| | | |
| --- | --- | --- |
| | | |
| DATE | MATCH | VENUE |
| 10th October | 01st ODI - (D/N) | Rangiri Dambulu International Cricket Stadium |
| 13th October | 02nd ODI – (DAY) | RanBACKGROUND-COLOR: #96B8C3giri Dambulu International Cricket Stadium |
| 17th October | 03rd ODI – (D/N) | Pallekele International Cricket Stadium |
| 20th October | 04th ODI – (DAY) | Pallekele International Cricket Stadium |
| 23rd October | 05th ODI – (D/N) | R. Premadasa International Cricket Staidum |
| 27th October | Only T20I ( D/N) | R. Premadasa International Cricket Staidum |
| 06th to 10th November | 01st Test Match | Galle International Cricket Stadium |
| 14th to 18th November | 02nd Test Match | Pallekele International Cricket Stadium |
| 23rd to 27th November | 03rd Test Match | SSC, Colombo |
During the English Cricket tour of Sri Lanka, we have many authentic experiences and excursions in Colombo, Galle, Kandy, Dambulla and Sigiriya areas. Whether it is a half a day experience , full day trip or multi day round trip we could tailor make it to suite your budget and schedule.
We have the following experiences for Barmy Army
Tented Safari Camping
Wildlife Safari Game Drives
Water sport / Adventure activities
Rain Forest walks
Open top Tours in Colombo, Dambulla, Sigiriya and Habarana
Fishing trips in the Sea and Lakes
Bird watching trips
Food and cooking with locals
Village Cycling trips in Galle and Sigiriya
Jungle walks followed by sun downers
Day trip to Dambulla, Sigiriya, Kandy, Galle, Udawalawe , Yala
Tailor-made itineraries from Sri Lanka holiday experts will help you design a trip perfect for you
Our office and representation in Sri Lanka ensures that there is nothing to worry about on the ground. The best team of chauffeur guides in Sri Lanka will introduce you to a side of this country that the masses will pass right on by. The use of small, boutique and personal hotels means luxury can be combined with an authentically Sri Lanka experience
Maldives Stopovers
Admire the isles of the breathtaking Maldives. Enjoy a few days spectacular pure paradise on your way to or from Sri Lanka. Maldives holidays trigger the imagination: Picture a private villa located over crystal waters as your holiday centre. You only need to sit on the porch to enjoy spectacular sunsets, breathtaking views of underwater marine life and lush tropical vegetation. The Republic of Maldives, in the area south-west of Sri Lanka, consists of multiple islands in the Indian Ocean and Arabian Sea. The smallest nation in Asia, Maldives remains mysterious and exotic, and each island offers signature attractions, unique places to stay and incredible white-sand beaches.