Seychelles Holidays
Seychelles holidays offer some of the most luxurious experiences for beach lovers, guests with discerning tastes and people who enjoy all types of water-based activities. Scattered across the Indian Ocean like jewels against blue velvet, the Seychelles islands feature lush tropical plantations, all-inclusive resorts, coconut fronds swaying in the trade winds and colonial charm. Discover rich birdwatching, wildlife and astonishing coral gardens highlighted with an amazing variety of colourful tropical fish, native land species and sea life.
Idyllic vacations begin with the incredible beaches where tropical birdsong colours the experience and crystal clear waters and pristine beaches form what many people consider to be the world's smallest continent. The islands have their own continental shelf, granitic mountains and unique native species of plant and animal life. Seychelles resorts throughout the islands feature all the modern amenities, private villas, butler service, open-air kitchens and child-friendly activities.
Featured Seychelles Hotels
Best Time to Visit
Holidays to Seychelles remain popular year-round due to the opposing trade winds that bring bespoke benefits for holiday-making. The calm periods between trade winds are ideal for snorkelling, diving and water-based activities. April and May and November and October are perfect for exploring the island's wondrous underwater world. The months of May through September offer bird-watching activities, hiking, sailing, surfing and windsurfing. The north-westerly winds blow from October through March, and the hottest months are from December to April.
Seychelles Holidays Feature Incomparable Attractions
Many tourists take holidays to Seychelles to relax and enjoy the astonishing scenery, but visitors can enjoy many festivals and cultural events throughout the year. In late May, the country celebrates its African and Creole roots with colourful festivals, dancing and music. Racing and surfing are popular year-round, and island-hopping is a popular activity. Popular Seychelles attractions include:
Travel Info
Language
English & French
---
Currency
Seychelles Rupee
---
Local Time
+3 hours
Weather in Seychelles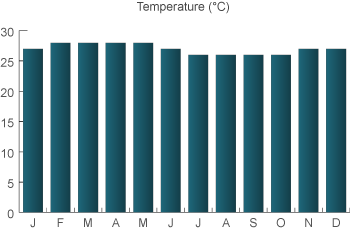 - Seychelles Beaches
Pristine white-sand beaches have avoided pollution and overt commercialisation. The Grande Anse and Anse Royale of Mahé follow the coast along miles of scenic panoramas and secluded beaches. Beau Vallon Beach, a short distance from Victoria, is the most popular beach for people-watching.
- Vallée de Mai Nature Reserve
Located on Praslin Island, this park attracts thousands of visitors who can view rare birds and beautiful flora and fauna.
- Hiking and Biking
Trails are free to explore and offer stunning vistas. Roads are also navigable by hired car. Granite mountains and misty peaks offer challenging hiking, exploration and spectacular views.
- Sir Percy Selwyn Clarke Market
This bustling market has served as the heart of Mahé's shopping district since 1840. Featuring, fruits, vegetables, spices, seafood, local works of art, clothing and souvenirs, the market provides visitors with unique shopping opportunities, local crafts, up-scale boutiques and vibrant trading, especially on Saturdays.
- Morne Seychellois National Park
This national park includes majestic mountains and the Seychelles' highest peaks for climbers and outdoor adventurers.
- Curieuse Island
Once a leper colony, Curieuse Island is home to a protected breeding program for giant tortoises. Visitors can climb among the ruins of the leprosarium, enjoy the white-sand beaches and stroll among the coco de mer palm trees.
- Uninhabited Islands
Visitors can enjoy visiting many uninhabited outer islands, coral atolls and sand cays where it is easy to imagine being marooned on a deserted island like Robinson Caruso.
- Bird Island
As the name implies, visitors can view an astonishing group of sea birds in the Seychelles' most northerly island. The island is surrounded by turquoise waters and coral reefs of unsurpassed beauty.
- Village of Baie Lazare
This picturesque village offers luxury Seychelles resorts, azure waters, stunning views and the neo-Gothic Baie Lazare Church, which is dedicated to Saint Francis of Assisi.
Seychelles Culinary Scene
The cuisine of the Seychelles islands featured fusion-inspired dishes long before culinary fusions became popular among gourmet diners throughout the world. The Indian Ocean near the equator features a cornucopia of tropical vegetables, fruits, meaty fish, seafood and spices. Influences include curries, Creole cuisine and classic French and Chinese dishes. Visitors enjoy king fish and tuna steaks, swordfish, shark and octopus, but adventuresome diners can try sea snails, Millionaire's Salad featuring heart of palm, hard-boiled bird eggs and parrot fish fried in batter.
Tropical fruits include bananas, oranges, plantains, custard apples, breadfruit, avocados, passion fruit and papaya. Fresh coconut finds its way into many curries and dishes. Lopping off the top of a fresh coconut purportedly cures hangovers, jet lag and stress.
Seychelles holidays feature stunning beaches, incredible mountains, island trails through the jungle, historic culture and examples of colonial architecture. Visitors can explore the cultures of Europe, Asia and Africa, discover unspoiled natural beauty, photograph unique flora and fauna, enjoy some of the world's best fishing and bring back memories of a tropical paradise.