Maldives Holidays
The Maldives are a group of islands in the Indian Ocean, thought to be the remains of a group of sunken volcanoes. Known for the stretches of beautifully colourful coral reefs, deep blue seas and gorgeous golden sands, this destination brings in thousands of travellers every year and is high on bucket-lists worldwide. Situated extremely close to the equator, the luxury islands promise sunshine galore for those looking to soak up some rays and relax. Holidays to the Maldives offer something for every taste, whether you prefer communing with manta rays, relaxing by cobalt-blue waters or enjoying a far-flung escape from the ordinary.
Holidaymakers can explore remarkable coral reefs by diving or booking an excursion on a submarine, and Muslims and religious students can visit the Grand Friday Mosque and Islamic Centre to appreciate the stark beauty of its golden dome. Most visitors enjoy a full schedule of beach, water, resort and shopping activities that include cruising, snorkelling, diving, dining and revelling in doing as little as possible.
Why should I visit the Maldives?
Maldives holidays trigger the imagination: picture a private villa located over crystal waters as your holiday centre. You only need to sit on the porch to enjoy spectacular sunsets, breath-taking views of underwater marine life and lush tropical vegetation. The Republic of Maldives, in the area south-west of Sri Lanka, consists of multiple islands in the Indian Ocean and the Arabian Sea. The smallest nation in Asia, Maldives remains mysterious and exotic, and each island offers signature attractions, unique places to stay and incredible white-sand beaches.
The biggest attraction in the Maldives is the extensive choice of island destinations and the astonishing coral reefs, beaches and crystal waters. Cultural attractions centre on the capital city, Malé. The Maldives National Museum exhibits rare Buddhist statues, sultans' riches and artefacts that date to the 12th century BCE.
Travel Info
Language
Dhivehi
---
Currency
Maldivian Rufiyaa
---
Local Time
+4 hours
Weather in the Maldives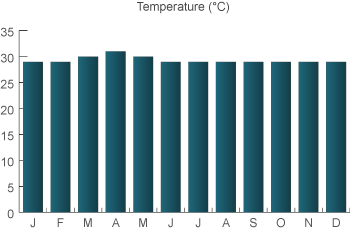 When should I travel?
Travel to the Maldives is best between November and April, and the high season runs from December through March. Winters have sunny weather but comfortable temperatures. Christmas is the busiest season, but during summer, diving visibility is at its best. Summer visitors enjoy windsurfing, jet-skiing, diving and other water-based activities. Monsoons occur from May to October but mostly between July and August. Tropical and humid, Maldives rainy days limit your activities, so many travellers stick to the dry season between November and April.
What is the weather like?
The weather in the Maldives is beautiful all year round, averaging mid-thirties throughout. The hottest months tend to be from March – June, so if you struggle particularly with heat, it would be best to avoid these times.
Where should I stay?
Hotels in the Maldives pride themselves on providing signature services. Each island boasts its own attractions, services and activities, so choosing the best place depends on your interests. With the ability to choose from hotels, resorts, private villas and even yacht stay – there is sure to be somewhere that fits the bill for your Maldivian getaway. However, due to this wealth of choice, deciding on your accommodation can be a little tricky – so be sure to check the features before booking.
For example, private villa resorts and hotels offer couples' massages, sunset strolls on the beach, dolphin safaris and snorkelling excursions for the family. Some islands focus on family activities, whereas others target couple's attractions, water recreation, yoga retreats or luxury services, depending on their amenities. If you're looking to experience Gourmet Dining or Romantic Tête-à-Têtes, this is also something you should consider when researching where to book to ensure you book the perfect destination.
Tropical Paradise Attractions
Aside from the beautiful waters and golden sands, one of the biggest attractions to the islands of the Maldives is the centre of the cultural attraction on the capital city, Malé. The Maldives National Museum exhibits rare Buddhist statues, sultans' riches and artefacts that date to the 12th century BCE.
Other Malé and island attractions include:
The Maldives Grand Friday Mosque, which has the unique distinction of facing west instead of the east because it was built on the foundations of an older temple.
Maldives Fish Market, where visitors can browse among an incomparable selection of fresh and dried seafood, fruits and vegetables.
Theemuge Palace, is the site of the presidential palace, of which the former President of the Maldives lived. Since 2008, this has been the location of the Supreme Court.
Alimatha Island, which sports a central beach, world-class diving, and a five-star ambience.
Manta Point, located on a reef about one hour from Malé, where imposing yet gentle mantas will circle around you in waters that are 15 metres deep.
The Esjehi Art Gallery, featuring cultural treasures and historical objects in one of the country's most venerable buildings.
Water Adventures
The nation has 1,192 coral islands spread over 90,000 square kilometres, so visitors enjoy unparalleled diving adventures, romantic escapes, coral reef wildlife and water activities along the double chain of 26 atolls. Whether you're into sailing or it's the underwater world that takes more of your fancy – the islands of the Maldives are absolutely beautiful, bringing in divers from all corners of the globe.
When is the best time to dive?
If you're coming to the Maldives specifically for the rich array of colourful corals and unparalleled diving experiences, you're going to want to book at a time where visibility is at its highest.
It's best to book when the winds are low, with blue skies and sun, as these conditions will ensure calm seas for the best diving experiences. If you're aiming for these conditions, book between December and May. Top tip - if you're an avid marine enthusiast and are travelling to the Maldives to observe a stunning array of shark species – book between December and March to maximise your chances of seeing these beautiful creatures.
Boating Experiences
From humble sailing and fishing boats to luxury yacht experiences, travelling by boat is the best way to experience the crystal blue waters of the islands. There are many boat tours offering private and group boat experiences to suit all requirements:
Set sail on a traditional Dhonifishing boat
Sea taxis enable locals and tourists to travel short distances between islands and excursions
Speed boat experiences
State-of-the-art diving boats, which come equipped with quality diving equipment
Private Yacht charters
Calling All Honeymooners
A Maldives honeymoon epitomises romance when honeymooners book a secluded villa surrounding by expansive ocean views and lush vegetation. Many couples book romantic Maldives vacations during the holidays, and marriage proposals are quite common.
Gourmet dining includes French, Indian, Japanese and Italian food, and visitors enjoy Maldivian cuisine that includes fish, coconut, starches and curries. Tuna dishes are most common and include several premium varieties. Vegetable and fish curries use exotic spices and tubers, breadfruit, cassava and screwpine to create exotic stews.
Our Top Maldives Travel Tips
You'll only find one Maldivian resort on each of the islands, so it's really important that you choose your facility with care! Now you've learnt about all the exciting activities around the Maldives, here are some top tips for your trip:
You can't bring your own alcohol; it will be confiscated and sold back to you at the end of your trip. Be mindful of this when travelling through customs airport security!
Choose islands that cater to multiple nationalities unless you prefer clannish enclaves.
Bottled water in the Maldives is among the most expensive in the world.
Phoning home is very expensive because only satellite phones are available – so remember to turn off your mobile data!
Island-hopping is difficult because of the limited number of boat services between the thousand-plus islands, but each resort provides motorboats for scheduled activities and airport ferrying. Keep this in mind when planning your travel itinerary!
Are the Maldives easy to fly to?
Depending on where you're flying from – many international flights to the Maldives will travel directly into the capital, to Malé International Airport. You can then transfer to your island often by boat, or seaplane. You're able to fly Economy, Premium Economy, Business Class or First Class – depending on your needs and budget.
What else do I need to know?
In the Maldives, the locals speak the language of Dhivehi, but many speak English so communication is not an issue. If you're looking for simple ways to communicate that honour the traditional culture of the Maldives, "Hello" translates to "Assalaam Alaikum", and "How are you?" translates to "Haalukihineh?". If you struggle particularly with jet leg, the local time is +4 hours from BST, meaning that you will adjust pretty quickly to their time zone upon landing.