Thailand Holidays
Thailand holidays are ideal for essentially any traveller. This lovely country boasts stunning landscapes, outstanding attractions and activities, and thriving, vibrant cities that come alive at night. Whether you are looking for a relaxing day on the beach, a mountain adventure, a jungle safari, or a visit to a beautiful city, it can be found in Thailand.
Thailand is home to a significant number of Buddhist shrines, monasteries and temples, all of which are spectacular sites. There is also a seemingly endless number of restaurants, bars and markets.
You can visit mesmerising cities such as Phuket, Koh Samui, Pattaya, Khao Lak, Chiang Mai and Bangkok, spend the day on one of the many lovely beaches in the province of Krabi, or visit Phuket Island with its breathtaking rock formations and colourful markets.
Jungle safaris in Thailand are available as well, during which monkeys, eagles, reptiles and even bats can be viewed in their natural habitat. Each forest layer has its own ecological story, from the forest's floor to its canopy. This interesting world offers a one-of-a-kind experience, where you can glimpse leopards, jaguars, anteaters and other amazing creatures as they prowl through the thick, lush vegetation.
Top Holiday Deals to Thailand
Featured Thailand Hotels
Bangkok
Bangkok is regarded by many travellers as Thailand's top attraction. Because it is the centre of both commercial and cultural activities, it is a very diversified area, and the pulse of the city is friendly and romantic. Be sure to visit Bangkok's top attractions, such as The Grand Palace with its magnificent architecture and the Temple of the Reclining Buddha, also known as Wat Pho. If you are a shopping enthusiast, go to CentralWorld and enjoy its limitless number of shops, boutiques and live entertainment venues. Bangkok also boasts a broad range of dining options and a stimulating and engaging nightlife.
Phuket
Phuket is perfect if you prefer exotic Thailand holidays. Its famous shoreline includes the popular beaches of Kata, Karon, Rawai, Nai Harn and of course, Patong. There are also attractions such as the Karon Bazaar, where you can shop for essentially any item you desire. Guided tours of Phuket's inland regions are also available if you are feeling adventurous.
Travel Info
Language
Thai
---
Currency
Thai baht
---
Local Time
+7 hours
Weather in Thailand
Kho Phi Phi Ley Island
If you love the sea, Kho Phi Phi Ley Island is ideal. The Island boasts a picturesque landscape featuring sandstone cliffs, clear waters and white sand. Renowned for its coral life, the Island is perfect for diving, snorkelling and scuba diving. You will also find incomparable photo-opportunities on this lovely Island.
Chiang Rai
If you want to interact with natives and learn about other cultures on your Thailand Holiday, consider a trip to Chiang Rai. Here, you can visit tribal villages, where beautiful music, impressive handicrafts, and dramatic, colourful dances can all be enjoyed. These tourist-friendly communities pleasantly interact with holidaymakers, and even offer advice about attractions and activities. In addition, you can go hiking, commune with elephants, discover impressive waterfalls and enjoy many other sights and sounds in this unique region.
Chiang Mai
If you enjoy modern cities with shopping malls, skyscrapers and a thriving atmosphere, Chiang Mai is the place for you. Considered the best of both worlds, this lovely region is also home to over 300 temples and pagodas, as well as an unspoiled landscape which can be viewed during a fun and educational jungle trek.
Best Time for Thailand Holidays
There is really no bad time for holidays to Thailand, but if you plan to visit the Western Peninsula, you should book your trip sometime between November and June. However, Eastern Thailand offers its best weather from December to May. If both coasts are on your itinerary, schedule your holiday sometime between December and April. The southern part of Thailand does not experience winter, and winters in the North and Northeast are cool, dry and pleasant. However, temperatures as low as 0°C may be experienced in the higher elevations.
Events and Festivals in Thailand
Thailand is home to numerous celebrations and festivals each year, and therefore you may wish to schedule your holiday during one of your favourite events. Some of Thailand's most interesting festivals for visitors include the following:
Bo Sang Umbrella Festival in the third week of January
Chinese New Year in late January or early February
Chiang Mai Flower Festival in the first week of February
Pattava Bike Week, the biggest cycling event in south-east Asia, in the middle of February
National Elephant Day on 13 March
Songkran Thai New Year Water Festival, a public holiday, 13--15 April
Rocket Festivals in middle and late May
Phuket Yachting Race Week in middle or late July
Vegetarian Festival in Late September or early October
King's Cup Elephant Polo in September
Buffalo Racing Festival in October or November
Monkey Banquet on the last Sunday in November
Indulge in Thailand's Internationally Famous Cuisine
Thailand holidays are not complete without some authentic Thai cuisine. The elements in most dishes are sweet, sour, and spicy. Consider indulging in various fish and meat dishes, noodles, vegetables and soups. You can also sample takeaway snacks from one of the area's many vendors, and these include salads, raw vegetables with dipping sauce, satay and sweet dishes. Because Thai chefs strive for perfectly balanced flavours, virtually anything you choose is sure to be tasty.
Holidays to Thailand offer something for travellers of all ages and from all walks of life. Picturesque landscapes, guided tours, vibrant cities and a glimpse into the life of natives all create a memorable Asian experience. With a little time and effort, you can organize an unforgettable holiday to this beautiful and captivating country.
Premium economy class highlights.
Baggage priority
Exclusive check-in counter
Upgrade meal and alcohol service
Overnight amenity
More private and quitter cabin
EVA Air flies non-stop daily from Heathrow to Bangkok and Taipei
Choice of three classes of cabin service: Royal Laurel Class (complete flat bed Business Class), award-winning Elite Class (Premium Economy) and Economy Class.
Personal seat-back, state-of-the-art touch screen audio/video on demand entertainment systems are installed in all three cabin classes.
EVA Air has a global network serving over 60 destinations throughout Asia, America, Australia, and Europe.
EVA Air was the first airline to introduce an Elite cabin (Premium Economy Class) to the UK market.
EVA Air is an award winning 5 star airline awarded by SKYTRAX as well as the 6th Safest Airline in the world for 2017 (by Aero International); and No. 1 airline for World's Cleanest Aircraft Cabins 2017; and the Best Business Class Comfort Amenities 2017.
Elite Class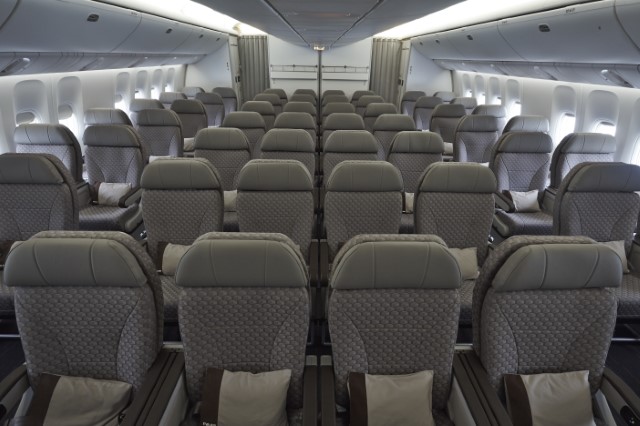 The Elite Class on EVA Air's B777-300ER aircrafts ingeniously satisfies both leisure and business flyers. The cabin is simply yet stylishly laid out with a refreshingly elegant color palette that matches your taste. Your private space in the cozy, spacious Elite Class features a high efficiency, exquisitely modern seat that guarantees total relaxation whether you are flying for business or leisure purposes.
Extra Space*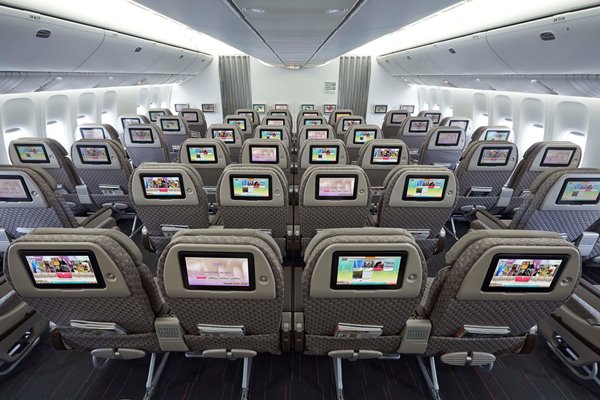 Combining contemporary aesthetics with functionality, the plush and spacious Elite Class offers you a 38 inch long, 19.5 inch wide seating space with ample leg room. The ergonomically engineered chair and "Mood Light" lighting system will ensure that you enjoy good quality sleep with ultimate comfort.
Limitless Connection*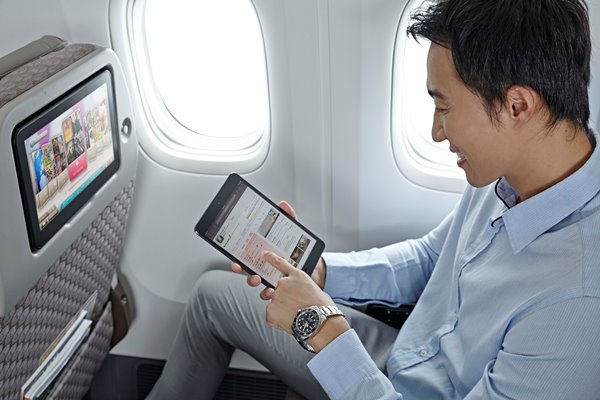 Enabled by the whole new Global Communication Suite (GCS), our convenient EVA Wi-Fi and SMS roaming services keep you updated on business even at 30,000 feet. Enjoy wireless internet connection throughout a business trip in the air.
Good Time*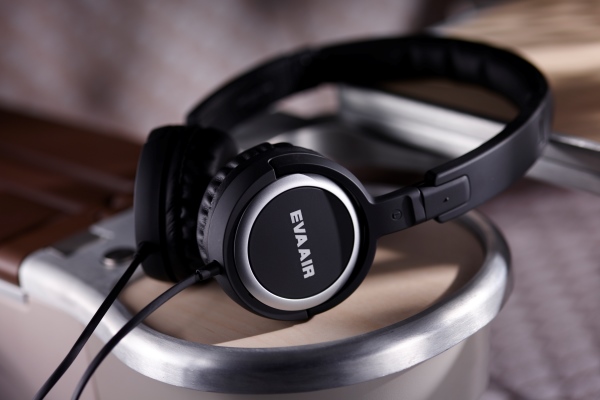 Our state of the art inflight entertainment system features an 11 inch LCD touch screen that gives you access to Star Gallery's extensive library of movies, TV shows, music and games, with just few swipes of your fingers, and matching noise cancelling headphones, to deliver a high quality entertainment experience to you. Duty Free Onboard shopping adds new visual enjoyment, vivid graphics and multi-function modes for Browsing and Ordering made.
Feeling Refreshed*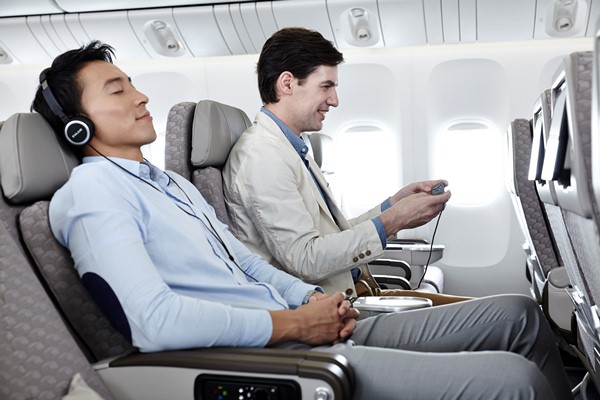 Our extraordinary collection of inflight amenities include a pillow and blanket set and travel sized toiletries for each individual passenger, plus products from Canadian aromatherapy brand ESCENTS that add a delightful touch to your flight experience. With our detail oriented, passenger friendly inflight amenities including the USB plugs and 110V AC outlets for laptops, now you can go about your business with ease and comfort.
Tasty Flavors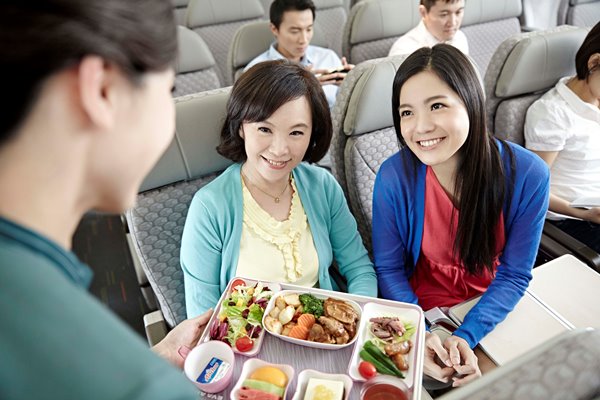 Fresh, healthy seasonal and cross border delectable food is served with select red/white wines, prestigious beers or non-alcoholic drinks to quench your thirst for the best ingredients and tastes. The Elite Class exclusive set also indulges you in a visual and gastronomic feast at a height of 30,000 feet.
*The interior specification/amenities of B777-300ER aircrafts may vary from aircraft to aircraft.
Bangkok Excursions
Wonderful Half-day temple visits. - Price fr £89pp sharing
Discover Bangkok's fabulous Buddhist architecture with Wat Traimit, Wat Po and Wat Phra Keo. The highlight of this excursion will be the visit of the Royal Palace, "The Grand Palace" with its magnificent Thai architecture.

Pick up from 08:30 and finish around 12:30, Including English Speaking guide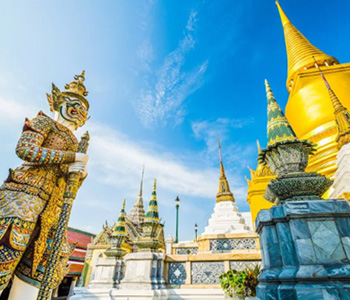 Floating Market - "Damnoen Saduak" & Train Market
This tour takes you to one of Thailand's most beautiful floating markets, where you can admire the countless colorful boats filled with fruits and vegetables. You will experience this unique market on a long-tail boat in between of the usual market bustle. Also visit the Mae Klong Railway Market directly by train!

Pick up from 07:00 and finish around 13:00, Including English speaking guide
Bangkok Classic - The perfect combination Full Day Tour
A full day excursion including some of Bangkok's highlights such as majestic Buddhist temples, imposing statues, the magnificent royal palace, a precious gems gallery and a boat ride in the metropolis canals will make this day an unforgettable experience - Including lunch.

Pick up from 08:00 and finish around 17:00, Including English Speaking guide
Ayutthaya – on trial, with the pearl of the old times
80 kilometers, separate Bangkok from the once largest metropolis city in the world. The journey takes you to the Kings of Siam's summer residence before you admire the three impressive pagodas. The highlight is the ruin site "Wat Mahathat" with her Buddha-head ingrown in a fig tree. Your way back you will experience a nice, relaxing river cruise - including lunch.

Pick up from 07:30 and finish around 17:00, Including English speaking guide.
Exploring Southern Phuket
Start with Phuket Big Buddha, the new attraction in Phuket town located on hill top where you can see 360'degree panoramic view. Continue to visit Promthep cape, Phuket most beautiful photo spot. Visit Batik painting shop to see work shop and possible to buy Phuket batik painting as a gift or souvenir. Later, visit Phuket Pearl Factory – see and possible to buy variety kind of Phuket Pearls which is produced from their own farm in Phuket.

Private Half Day Excursion departing from Phuket beach hotel , Pick up around 09:00 and drop off around 13:00. English Speaking Guide Included.
Phuket Street Food
It is good that we do not have a center of local food set in one place so we need to drive around to find such hidden recipe that famous amongst Phuket local people only. When you take this tour, we suggested you to be picked up at noon and start with appetizer at street food center. After eating street food, enjoy the guided walk through Yaowarat Road to see one of the charming Chinese Mansion (take photo from outside) then walk along the road seeing many spectacular Sino-Portuguese houses.

Private Half Day Excursion departing from Phuket beach hotel, Pick up around 14:00 and drop off around 18:30. English Speaking Guide Included.
James Bond & Sea Canoe by Speedboat (Lunch included)
An opportunity to explore the magic limestone rock formations in Phang Nga Bay and discover under-sea-caves by canoeing to natural lagoon where you may see 'king fisher', 'wild monkey', 'sea eagle' and 'mudskipper'. Visit Koh Tapu or James Bond Island where movie 'The man with the golden gun- James Bond 007' was filmed and it is one of the iconic of Phang Nga Bay.

Seat in Coach full day Excursion departing from Phuket beach hotel, Pick up around 08:00 and drop off around 17:00, English speaking guide included.Lunch will be at a local restaurant on Panyi Island (Muslim village).
Phi Phi Island by Speedboat (Lunch included)
Phi Phi Island is one of the most popular destination for those who come for Phuket trip could not miss! Its beauty still draw tourist to revisit as always. The islands came to worldwide prominence when Maya Bay – a stunning beautiful beach famous from the movie 'The Beach' which was filmed here in year 2000.

Seat in Coach full day Excursion departing from Phuket beach hotel, Pick up around 08:00 and drop off around 17:00, English speaking guide included. Lunch will be at a local restaurant on Phi Phi Island.