Thailand Holidays
Thailand holidays are ideal for essentially any traveller. This lovely country boasts stunning landscapes, outstanding attractions and activities, and thriving, vibrant cities that come alive at night. Whether you are looking for a relaxing day on the beach, a mountain adventure, a jungle safari, or a visit to a beautiful city, it can be found in Thailand. Thailand is especially popular with backpackers due to its affordability, but is also considered one of the world's most beautiful locations, and is also thought of as one of the world's most luxurious travel destinations. This consideration makes the destination one very popular for honeymoons, too.
Top Holiday Deals to Thailand
Featured Thailand Hotels
Thailand is home to a significant number of Buddhist shrines, monasteries and temples, all of which are spectacular sites. There is also a seemingly endless number of restaurants, bars and markets. The island is based in South-East Asia, where the local time is +7 hours from the UK. The locals speak Thai, and the countries national currency is the Thai baht – which typically means that one British pound is around 40 bahts, giving you an idea of the price of many amenities.
Aside from cultural excursions, there is a range of jungle safaris, during which monkeys, eagles, reptiles and even bats can be viewed in their natural habitat. Spectacularly, each forest layer has its own ecological story, from the forest's floor to its canopy - offering a one-of-a-kind experience, where you can glimpse leopards, jaguars, anteaters and other amazing creatures as they prowl through the thick, lush vegetation and wonder at this interesting world.
Travel Info
Language
Thai
---
Currency
Thai baht
---
Local Time
+7 hours
Weather in Thailand
So, where can you visit in Thailand?
You can visit mesmerising cities such as Phuket, Koh Samui, Pattaya, Khao Lak, Chiang Mai and Bangkok, spend the day on one of the many lovely beaches in the province of Krabi, or visit Phuket Island with its breathtaking rock formations and colourful markets. As a result of this wealth of beautiful destinations, many people book multi-centre holidays to explore all the beauty that has Thailand has to offer.
Bangkok
Bangkok is regarded by many travellers as Thailand's top attraction. Because it is the centre of both commercial and cultural activities, it is a very diversified area, and the pulse of the city is friendly and romantic. Be sure to visit Bangkok's top attractions, such as The Grand Palace with its magnificent architecture and the Temple of the Reclining Buddha, also known as Wat Pho. If you are a shopping enthusiast, go to CentralWorld and enjoy its limitless number of shops, boutiques and live entertainment venues. Bangkok also boasts a broad range of dining options and a stimulating and engaging nightlife.
Phuket
Phuket is perfect if you prefer exotic Thailand holidays. Its famous shoreline includes the popular beaches of Kata, Karon, Rawai, Nai Harn and of course, Patong. There are also attractions such as the Karon Bazaar, where you can shop for essentially any item you desire. Guided tours of Phuket's inland regions are also available if you are feeling adventurous.
Koh Phi Phi Ley Island
If you love the sea, Kho Phi Phi Ley Island is ideal. The Island boasts a picturesque landscape featuring sandstone cliffs, clear waters and white sand. Renowned for its coral life, the Island is perfect for diving, snorkelling and scuba diving. You will also find incomparable photo-opportunities on this lovely Island.
Thai Cuisine
Thailand holidays are not complete without some authentic Thai cuisine. The elements in most dishes are sweet, sour, and spicy. Consider indulging in various fish and meat dishes, noodles, vegetables and soups. You can also sample takeaway snacks from one of the area's many vendors, and these include salads, raw vegetables with dipping sauce, satay and sweet dishes. Because Thai chefs strive for perfectly balanced flavours, virtually anything you choose is sure to be tasty.
Holidays to Thailand offer something for travellers of all ages and from all walks of life. Picturesque landscapes, guided tours, vibrant cities and a glimpse into the life of natives all create a memorable Asian experience. You'll definitely be familiar with some of Thailand's most popular dishes such as Pad Thai, Khao Pad and Panang. With a little time and effort, you can organize an unforgettable holiday to this beautiful and captivating country.
What can I do whilst I am there?
The country of Thailand is home to numerous celebrations and festivals each year, and therefore you may wish to schedule your holiday during one of your favourite events.
Some of Thailand's most interesting festivals for visitors include the following:
January
Bo Sang Umbrella Festival in the third week of January
February
Chinese New Year in late January or early February
Chiang Mai Flower Festival in the first week of February
Pattaya Bike Week, the biggest cycling event in south-east Asia, in the middle of February
March
National Elephant Day on 13 March
April
Songkran Thai New Year Water Festival, a public holiday, 13--15 April
May
Rocket Festivals in middle and late May
Summer
Phuket Yachting Race Week in middle or late July
October
Vegetarian Festival in Late September or early October
Autumn and Winter
King's Cup Elephant Polo in September
Buffalo Racing Festival in October or November
Monkey Banquet on the last Sunday in November
How can I get around?
On land, taxis in Thailand come in the form of the famous Tuk-Tuk. These three-wheeled vehicles are a really affordable way of getting around and is a pretty quick way of travelling, too. Sometimes referred to as a Rickshaw, these half-car, half-bike urban transportation vehicles are extremely popular with tourists and locals alike. We especially recommend you take a nighttime tour of the cities on a Tuk-Tuk – but make sure you agree on a price before setting off so that you don't get caught out at the end of your journey.
On the ocean, of course, the only way to get around is by boat. Transport on the water comes in the form of longtail boats or water taxis and are a great way to explore the islands and travel resort-to-resort.
How long should I visit for?
There is a huge array of activities to do and stunning destinations to visit, and for this reason, we recommend a two-week trip. This means that you can schedule plenty of time to see the world-renowned sites as well as book in some well-deserved relaxation time, too.
An extended visit will also allow you to island hop. As there are hundreds of islands that make up Thailand: three hundred, to be exact, you're definitely spoilt for choice. A great way to island hop is to rent a boat for the day to explore the crystal waters and see what the islands really have to offer.
Rest and Relaxation
If you're looking to come to Thailand for some rest-bite, you've chosen a great location. Aside from the beautiful beaches to sunbathe the day away upon, if you're looking for a one-of-a-kind spa experience, Thailand is the place to go.
Whilst Thai massages can be quite intense – they are a great experience and one we definitely recommend. Rather than a calming experience, a Thai massage involves a lot of stretching and manipulation. You will be lying on the floor or flat table, whilst the masseuse works your muscles using their hands and knees to really get the muscles relaxed.
Or… party the night away?
Home to the famous "Full Moon Party", Thailand hosts some of the best parties and nightlife in the Far East. You may have seen images of these bucket-list favourites, as well as strips filled to the brim with clubs, Go-Go bars and much more.
Be sure to visit a foam party while you're here too – with Thailand's Hard Rock Hotel planning show-stopping events in their swimming pool every Saturday.
Premium economy class highlights.
Baggage priority
Exclusive check-in counter
Upgrade meal and alcohol service
Overnight amenity
More private and quitter cabin
EVA Air flies non-stop daily from Heathrow to Bangkok and Taipei
Choice of three classes of cabin service: Royal Laurel Class (complete flat bed Business Class), award-winning Elite Class (Premium Economy) and Economy Class.
Personal seat-back, state-of-the-art touch screen audio/video on demand entertainment systems are installed in all three cabin classes.
EVA Air has a global network serving over 60 destinations throughout Asia, America, Australia, and Europe.
EVA Air was the first airline to introduce an Elite cabin (Premium Economy Class) to the UK market.
EVA Air is an award winning 5 star airline awarded by SKYTRAX as well as the 6th Safest Airline in the world for 2017 (by Aero International); and No. 1 airline for World's Cleanest Aircraft Cabins 2017; and the Best Business Class Comfort Amenities 2017.
Elite Class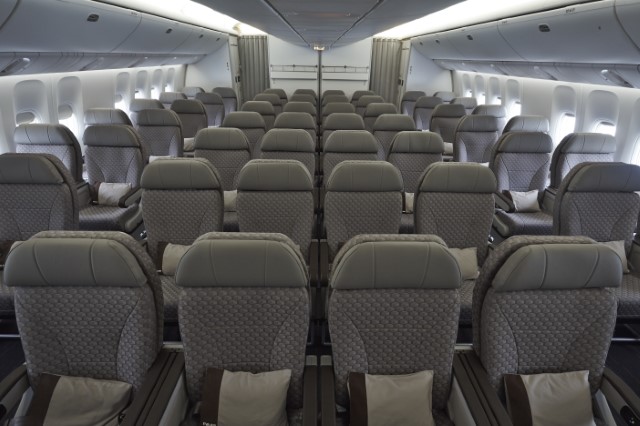 The Elite Class on EVA Air's B777-300ER aircrafts ingeniously satisfies both leisure and business flyers. The cabin is simply yet stylishly laid out with a refreshingly elegant color palette that matches your taste. Your private space in the cozy, spacious Elite Class features a high efficiency, exquisitely modern seat that guarantees total relaxation whether you are flying for business or leisure purposes.
Extra Space*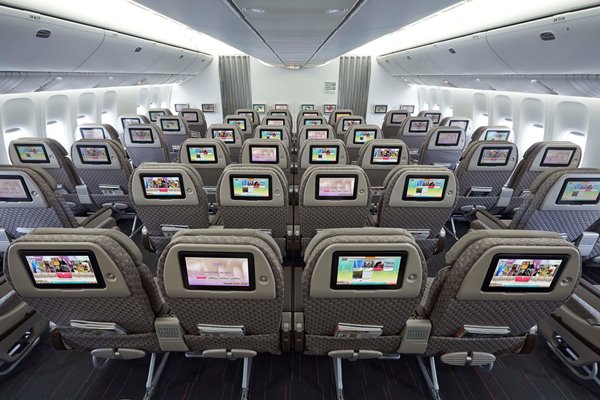 Combining contemporary aesthetics with functionality, the plush and spacious Elite Class offers you a 38 inch long, 19.5 inch wide seating space with ample leg room. The ergonomically engineered chair and "Mood Light" lighting system will ensure that you enjoy good quality sleep with ultimate comfort.
Limitless Connection*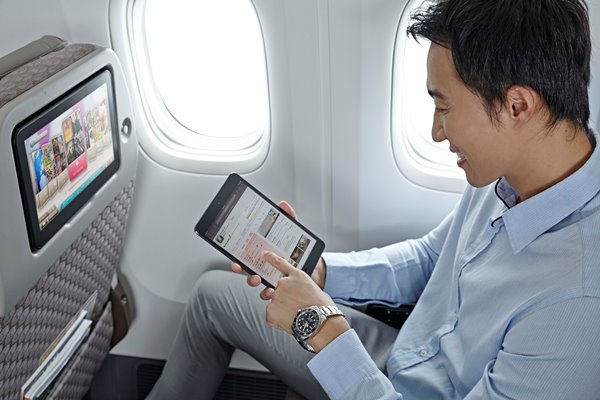 Enabled by the whole new Global Communication Suite (GCS), our convenient EVA Wi-Fi and SMS roaming services keep you updated on business even at 30,000 feet. Enjoy wireless internet connection throughout a business trip in the air.
Good Time*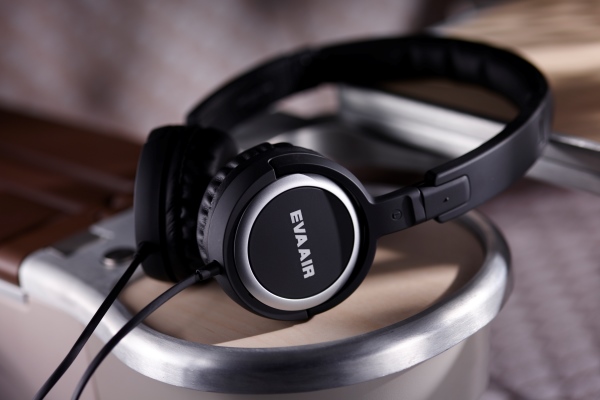 Our state of the art inflight entertainment system features an 11 inch LCD touch screen that gives you access to Star Gallery's extensive library of movies, TV shows, music and games, with just few swipes of your fingers, and matching noise cancelling headphones, to deliver a high quality entertainment experience to you. Duty Free Onboard shopping adds new visual enjoyment, vivid graphics and multi-function modes for Browsing and Ordering made.
Feeling Refreshed*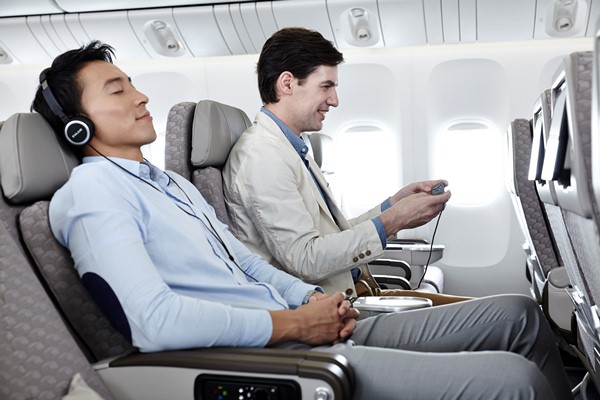 Our extraordinary collection of inflight amenities include a pillow and blanket set and travel sized toiletries for each individual passenger, plus products from Canadian aromatherapy brand ESCENTS that add a delightful touch to your flight experience. With our detail oriented, passenger friendly inflight amenities including the USB plugs and 110V AC outlets for laptops, now you can go about your business with ease and comfort.
Tasty Flavors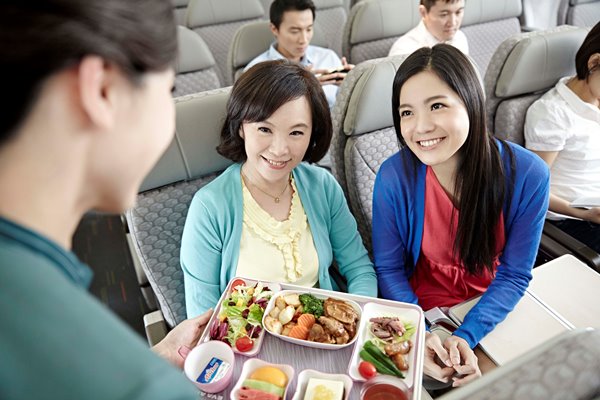 Fresh, healthy seasonal and cross border delectable food is served with select red/white wines, prestigious beers or non-alcoholic drinks to quench your thirst for the best ingredients and tastes. The Elite Class exclusive set also indulges you in a visual and gastronomic feast at a height of 30,000 feet.
*The interior specification/amenities of B777-300ER aircrafts may vary from aircraft to aircraft.