Featured Hotels in Thailand
Thailand Holidays
Thailand holidays offer beautiful beaches, mountainous adventures, jungle safaris and the culture shock of visiting Bangkok where crowds of people, loud music, neon signs, unique architecture and giant billboards contribute to sensory overload. The bustling metropolis that is Bangkok suits single travellers and couples better than families, but every visitor should at least make a stop there for the incredible experience. Throughout Thailand, tourists are regarded as wealthy by Thai standards, so your money goes further than you'd ever dream.
Thailand has Buddhist shrines, temples and monasteries, 12-line motorways, markets with 15,000 stalls and restaurants everywhere you look. Thailand holidays are one-of-a-kind adventures that you'll never forget. Krabi province has more than 150 kilometres of beaches with stunning rock formations as backdrops. Phuket Island, just off the south-west coast, has vibrant markets that begin trading at dawn and are highlighted by the beeps of tuk tuks, the three-wheeled motorised rickshaws that serve as the island's taxis.
Thailand is the most popular tourist destination in the region due to its beautiful beaches, incredible cuisine, unique identity, luxury hotels and cheap beach bungalows. Thailand needs nothing else to provide a satisfying holiday, but visitors also enjoy the unique and satisfying attractions.
Thailand Jungle Safaris
Jungle safaris in Thailand are otherworldly experiences with red-eyed tree frogs, snakes, monkeys, bats and eagles. Each layer of the forest has its own ecology and story, and the layers include the emergent, understory, canopy and forest-floor layers. Jaguars and leopard cross the lines, and anteaters inhabit the forest floor where overhead vegetation is so thick that nothing will grow in the carpeted layer of pine needles where the sun never reaches.
Kho Phi Phi Ley Island
The island features sandstone cliffs, white sand and clear waters with some of the best coral life in the world. Great for snorkelling and diving, Kho Phi Phi Ley offers dramatic photo and videotaping opportunities.
Chiang Rai
Outdoor enthusiasts will enjoy hiking, communing with elephants, discovering impressive waterfalls and visiting hill tribe villages where colourful dances, handicrafts and music encourage visitors to spend money in these tourist-friendly communities.
Chiang Mai
Chiang Mai, a modern city with skyscrapers, shopping malls and the latest traveller amenities, also features stunning landscapes, jungle treks, picturesque pagodas and more than 300 temples.
Best Times for Thailand Holidays
Thailand's seasons divide into summer and the rainy season. Visit areas in the western part of the peninsula between the middle of November through the month of June to avoid the monsoons that occur in other months. Eastern Thailand is best from December to June. If your travel plans include visiting both coasts, then the best time to schedule your holiday is December to April. November through February are the most moderate times of year, and the southern part of the country doesn't have a winter at all. Higher elevations in winter can get as cold as 0-degrees Celsius, but winters in the north and north-east are dry, cool and pleasant.
Bangkok
Bangkok is Thailand's top attraction because the city is the country's economic, political and cultural capital. Visitors might be overwhelmed by the city's size, scale, crowds and sensory overload, but it's hard to imagine visiting Thailand without stopping in this iconic destination.
Events and Festivals in Thailand
Thailand hosts many festivals and events throughout the year, so you might want to schedule your holiday based on when your favourite events occur. Some of the more interesting pageants for visitors include:
- Bo Sang Umbrella Festival in the third week of January
- Chinese New Year in late January or early February
- Chiang Mai Flower Festival in the first week of February
- Pattava Bike Week, the biggest cycling event in south-east Asia, in the middle of February
- National Elephant Day on 13 March
- Songkran Thai New Year Water Festival, a public holiday, 13--15 April
- Rocket Festivals in middle and late May
- Phuket Yachting Race Week in middle or late July
- Vegetarian Festival in Late September or early October
- King's Cup Elephant Polo in September
- Buffalo Racing Festival in October or November
- Monkey Banquet on the last Sunday in November
Thai Cuisine Is Internationally Famous
Thailand holidays offer gourmets and food aficionados some the world's most celebrated foods. Featuring a unique style of sharing foods among all guests at the table, Thai cuisine features sweet, salty, sour and spicy elements in almost every dish. Diners typically order various meat and fish dishes, soup, vegetables and noodles. Visitors can grab a takeaway snack for a low price along the roads, and these foods include satay, raw vegetables and dipping sauce, salads, soups and sweet dishes. Regardless of what you order in Thailand, the goal is to create an overall balance of flavours. Thai dishes use less meat, so chefs often shred meat to extend its flavour to complementary noodles, rice and vegetables.
Holidays to Thailand offer the beach experience that families love, but the country offers so much more to the discerning visitor, student and world traveller. Picturesque mountains, exciting tours, the crowded but vibrant Bangkok scene and UNESCO-protected temples provide unique cultural insights, family adventures and a quintessentially Asian experience that is unlike anything most tourists experience in their travels. Planning and organizing a bespoke itinerary is the key to a satisfying Thailand holiday.
Premium economy class highlights.
Baggage priority
Exclusive check-in counter
Upgrade meal and alcohol service
Overnight amenity
More private and quitter cabin
EVA Air flies non-stop daily from Heathrow to Bangkok and Taipei
Choice of three classes of cabin service: Royal Laurel Class (complete flat bed Business Class), award-winning Elite Class (Premium Economy) and Economy Class.
Personal seat-back, state-of-the-art touch screen audio/video on demand entertainment systems are installed in all three cabin classes.
EVA Air has a global network serving over 60 destinations throughout Asia, America, Australia, and Europe.
EVA Air was the first airline to introduce an Elite cabin (Premium Economy Class) to the UK market.
EVA Air is an award winning 5 star airline awarded by SKYTRAX as well as the 6th Safest Airline in the world for 2017 (by Aero International); and No. 1 airline for World's Cleanest Aircraft Cabins 2017; and the Best Business Class Comfort Amenities 2017.
Elite Class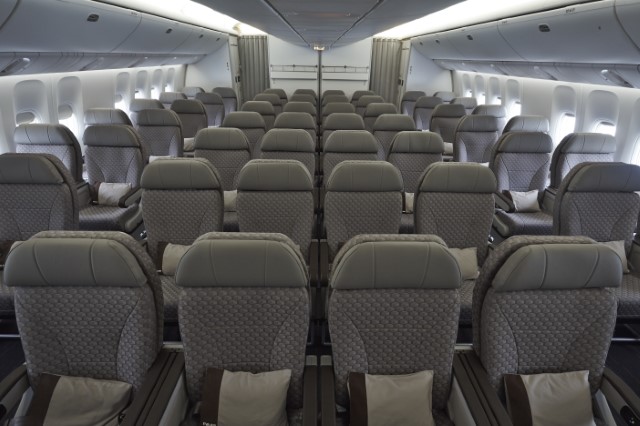 The Elite Class on EVA Air's B777-300ER aircrafts ingeniously satisfies both leisure and business flyers. The cabin is simply yet stylishly laid out with a refreshingly elegant color palette that matches your taste. Your private space in the cozy, spacious Elite Class features a high efficiency, exquisitely modern seat that guarantees total relaxation whether you are flying for business or leisure purposes.
Extra Space*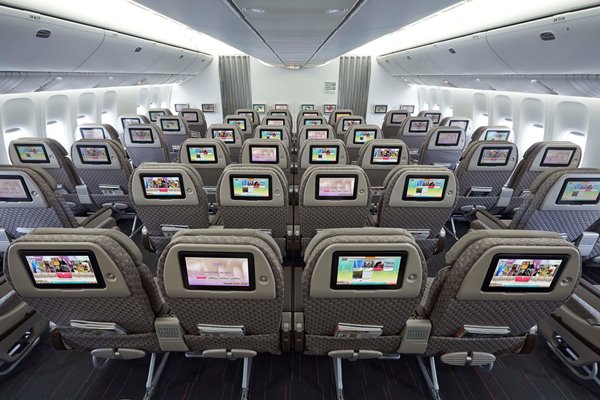 Combining contemporary aesthetics with functionality, the plush and spacious Elite Class offers you a 38 inch long, 19.5 inch wide seating space with ample leg room. The ergonomically engineered chair and "Mood Light" lighting system will ensure that you enjoy good quality sleep with ultimate comfort.
Limitless Connection*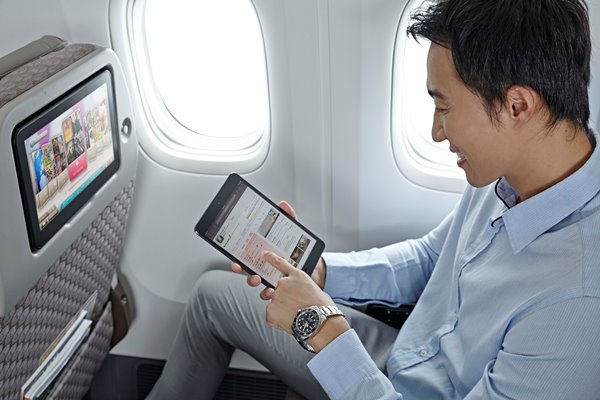 Enabled by the whole new Global Communication Suite (GCS), our convenient EVA Wi-Fi and SMS roaming services keep you updated on business even at 30,000 feet. Enjoy wireless internet connection throughout a business trip in the air.
Good Time*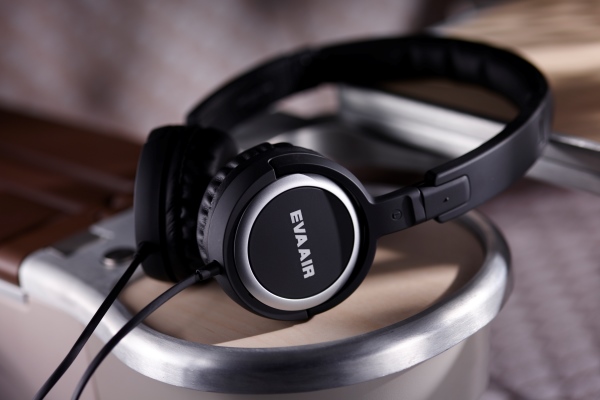 Our state of the art inflight entertainment system features an 11 inch LCD touch screen that gives you access to Star Gallery's extensive library of movies, TV shows, music and games, with just few swipes of your fingers, and matching noise cancelling headphones, to deliver a high quality entertainment experience to you. Duty Free Onboard shopping adds new visual enjoyment, vivid graphics and multi-function modes for Browsing and Ordering made.
Feeling Refreshed*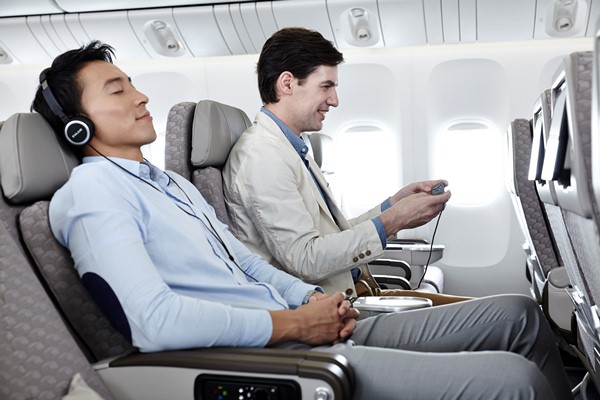 Our extraordinary collection of inflight amenities include a pillow and blanket set and travel sized toiletries for each individual passenger, plus products from Canadian aromatherapy brand ESCENTS that add a delightful touch to your flight experience. With our detail oriented, passenger friendly inflight amenities including the USB plugs and 110V AC outlets for laptops, now you can go about your business with ease and comfort.
Tasty Flavors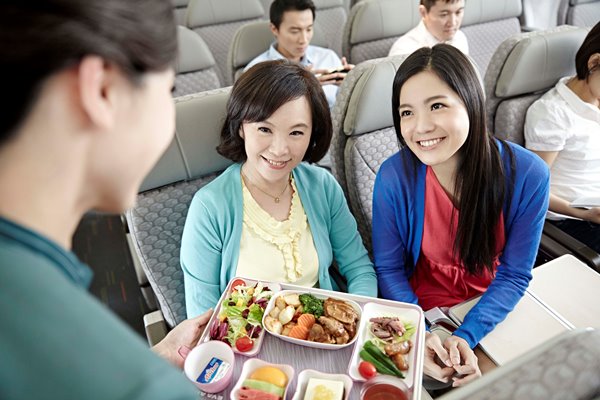 Fresh, healthy seasonal and cross border delectable food is served with select red/white wines, prestigious beers or non-alcoholic drinks to quench your thirst for the best ingredients and tastes. The Elite Class exclusive set also indulges you in a visual and gastronomic feast at a height of 30,000 feet.
*The interior specification/amenities of B777-300ER aircrafts may vary from aircraft to aircraft.