Hurghada Holidays Holidays
Hurghada in Egypt is an exciting and vibrant holiday destination. It is located on the western side of Egypt's Red Sea Riviera and the destination is ideal for holidaymakers from all walks of life. This region attracts thousands of visitors every year and is now one of Egypt's leading resort cities.
In addition, due to the area's diversity, it is a suitable holiday getaway location whether one is searching for exciting attractions and activities or a peaceful environment in which to relax and unwind.
Featured Hurghada Holidays Hotels
Hurghada is a colourful and engaging Egyptian holiday destination on the Red Sea Riviera's Western side. A top resort town, it caters for all types of visitors, and because of the area's diversity, it is ideal for any type of getaway. This is true regardless of whether you are searching for thrills and excitement or simply want to enjoy a peaceful, quiet holiday.
Things to See and Do
Hurghada offers a wide selection of interesting things to see and do. Whether you enjoy swimming, sightseeing, shopping or dining, the activities you are searching for can be found in this area. Below are some favourite destinations amongst tourists and local residents alike:
Travel Info
Language
Egyptian Arabic
---
Currency
Egyptian Pound
---
Local Time
+2 hours
Weather in Hurghada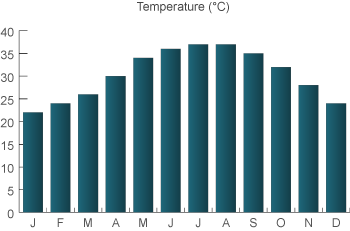 Makadi Bay
Makadi Bay is situated a bit south of the Gulf of Suez. It is nestled between a vast desert and a breathtaking mountain range. This charming town is also surrounded by beaches that boast some of the world's finest white sand and clear blue waters. In the Bay's main tourist area you can enjoy a variety of activities, such as camel riding with your travel companions, visiting one of the many juice bars in the Bay, or simply relaxing on the beach. Guided tours and excursions are also an option, and these include treks to the Monasteries of St. Paul and St. Anthony, the Giftun Island National Park, and the ancient town of Luxor.
Hurghada Grand Aquarium
The Hurghada Grand Aquarium is one of the region's best loved landmarks and is dedicated to inspiring visitors of all ages to fully appreciate the world's impressive oceans. It is home to over 100 species and more than 1200 individual animals. Therefore, you are guaranteed to find this establishment both educational and compelling.
El Mina Masjid Mosque
When visiting Hurghada, you should consider placing the El Mina Masjid Mosque on your must-see list. One of the country's most ornate and glamourous mosques, this captivating structure features beautiful decor and intricate architecture. Holidaymakers are allowed to roam the mosque freely, except during Muslim prayer times.
Diving and Sunbathing
Hurghada is also one of Egypt's top diving locations and is home to a remarkable array of marine life. The crystal clear water found in its many bays allows you to easily view dozens of aquatic creatures, as well as interesting coral formations. El Gouna's beaches and pools also make great choices if you are searching for a halcyon beach environment, complete with food stalls and live entertainment.
If you prefer a quiet, relaxing area, take a day trip to Soma Bay, which is situated on a peninsula surrounded by soft, sandy beaches and picturesque desert scenery. Entirely different from the larger resort beaches in Hurghada, Soma Bay is the perfect option if you are seeking a tranquil day in the sun.
Shopping and Dining
Dining and shopping are very popular activities in Hurghada, and a favourite place to enjoy both is Sheraton Road, also called the El Sakala Centre. This bustling street is home to multiple bazaars, shops, banks, pharmacies, supermarkets, nightclubs and restaurants. If you enjoy outdoor shopping, do not miss the trip to El Dahar Square and the Sekalla High Street Marketplace. El Dahar Square is the largest, busiest market in the region, and is typically a safe and hassle-free place for holidaymakers. Here, you can bargain for goods such as clothing, fruit, fresh fish, spices, and handicrafts.
The Promenade is another terrific area for shopping, and is somewhat similar to Sheraton Road. It features a five kilometres of stores and souvenir shops. Other must-see destinations nearby include the Kuddas Mall, Esplanada Mall, Hard Rock Café, Senzo Mall and Little Buddha Nightclub.
Best Time to Visit
Egypt's weather is usually pleasant year-round, although during July and August temperatures can soar and the climate is very hot and dry. Nevertheless, most of the Red Sea Riviera, including Hurghada, enjoys breezes from all sides, which typically offset summer's extreme temperatures. Ultimately, spring and autumn offer the best climate for holidaymakers, but certain beaches may be quite congested during these times.
No matter what you have in mind when organising a Hurghada holiday, you will be pleased to find that the area has something for everyone. A pleasant and memorable trip awaits you in this unique and interesting part of Egypt.