Cairo Holidays Holidays
A favourite holiday location for anyone seeking adventure and fun, Cairo in Egypt beckons travellers with its famous attractions and sightseeing opportunities. Holidaymakers are always happy to discover that the region boasts picturesque scenery, engaging activities, and a broad range of one-of-a-kind landmarks, which provide the backdrop for great photo opportunities.
Featured Cairo Holidays Hotels
Things to Do and See
There is no shortage of intriguing things to see and do in Cairo, but the most popular sightseeing excursion is a day trip to view the Pyramids of Giza. These alluring landmarks are always the highlight of any trip to this area, as well as Egypt's most famous attraction overall. Few structures can boast the beauty and mystique of the Giza Pyramids.
The Tower of Cairo
Located in the Zamalek district, the Tower of Cairo reaches a staggering height of almost 190 metres. Created to look like a lotus plant, this glamourous granite structure is a sight to behold. An observation deck is situated at the top of the Tower, from where visitors can enjoy a panoramic view of the Pyramids of Giza, the Nile River, and Cairo's skyline. The most desirable views from the Tower are seen late morning or late afternoon, when the surrounding skies are clearest.
Travel Info
Language
Egyptian Arabic
---
Currency
Egyptian Pound
---
Local Time
+2 hours
Weather in Cairo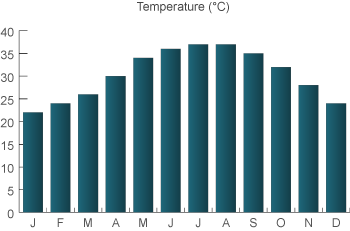 The Egyptian National Museum and the Abdeen Palis Museum
The Abdeen Palis Museum and the Egyptian National Museum are both found in the centre of Cairo. These attractions are favoured amongst holidaymakers who enjoy history. Each establishment boasts thousands of paintings, artifacts, and other beautiful creations.
Cairo Citadel
In the eastern district of Old Cairo, holidaymakers can visit an ancient citadel, dating back to the 12th century. Originally constructed to defend against Crusaders, the Cairo Citadel was home to Egyptian rulers from various eras, including the Malmuks' reign, the Ayyubid Dynasty, and the Ottoman Empire. The Citadel is characterized by four ornate palaces, several museums, three iconic mosques, and numerous terraces that offer striking views of the desert all the way to the Pyramids.
Cairo Parks
Cairo is also home to many family-friendly attractions, including several popular theme parks, such as Magic Land and The Dream Park, both of which are suitable for children of all ages. However, both parks are popular amongst adults as well.
Mosque of Qaitbey
A place of worship for Muslim families, as well as an extraordinary Cairo tourist attraction, the Mosque of Qaitbey was built in the 15th century and is a marvelous example of Islamic architecture. It is known throughout Egypt for its unusual and intricate carvings, which are found on the inside of its dome. It is an impressive landmark no Cairo visitor should miss.
Shopping and Dining
The Khan El-Khalil Bazaar is one of Cairo's most renowned shopping districts and is located in Old Islamic Cairo. It is essentially a giant bazaar designed for easy foot travel, making it perfect for visitors who want to venture from one marketplace to another searching for bargains and interesting places to dine. Zalmek Street is another great area for shopping and dining, and offers travellers an array of boutiques and cafés where merchandise and delicious cuisine are always available. Terrific shopping and dining opportunities abound in downtown Cairo as well, where additional restaurants and stores are located, some of which have been family-owned for multiple generations.
Best Time to Visit
The best months to visit Cairo are March and April, and October and November. Near-perfect temperatures can be anticipated throughout these four months, and the region is much less crowded during this time than it is from November to February, the latter of which is considered peak season in Cairo. However, winter offers great weather for those who do not mind crowds, with warm, sunny days and breezy, cool nights. Average summer temperatures are about 35 degrees celsius, whilst the average winter temperature is approximately 20 degrees.
Although Cairo is a thriving, boisterous city that may occasionally seem a bit chaotic, holidaymakers should consider dedicating a morning or afternoon to wander the city's ancient streets and alleyways, view the spectacular Nile River or simply relax over a cup of tea. Ultimately, those planning a holiday in remarkable Cairo can look forward to a unique experience and memories that will last a lifetime.