Antalya Holidays
Antalya on the Mediterranean Coast is Turkey's tourism capital, attracting millions of visitors every year with its combination of perfect climate and scenic beauty. It is said that its founder, King Attalos II of Pergamon, on first discovering this place, told his troops that "this must be heaven".
More than two thousand years later, this beautiful old town still seems like heaven to many and provides a host of reasons why you should experience it at least once in a lifetime.
First attracting tourists to the city in the 1980s as one of the first Turkish cities to do so, Antalya to this day is still one of the most popular holiday destinations in the world.
Explore the charm of the old city…
The historic centre of Antalya, Kaleiçi, surrounded by massive stone walls, is a labyrinth of winding cobbled streets lined with picturesque old Ottoman mansions, with red roofs and whitewashed walls. Full of boutiques, art galleries, cafes and gift shops, it's a perfect place for wandering and strolling. You will certainly get lost in the maze of tiny lanes, but the local people delight in giving directions.
As well as drinking in the old-world ambience, there is plenty of sightseeing to do in the Old City, notably the monumental Hadrian's Gate in the city wall, with ornate columns and three extended archways, built in 130 A.D. in honour of the Roman Emperor Hadrian.
Further along the city wall Kale Kapisi, the Castle Gate, provides the entrance to the city square, and nearby are many distinctive landmarks - Yivli Minare, the Fluted Minaret, a typical example of 13th-century Seljuk architecture, the Clock Tower, and the 14-metre cylindrical Roman fortress, dating back to the 1st or 2nd century A.D., and standing as a watchtower over the harbour.
Travel Info
Language
Turkish
---
Currency
Turkish Lira
---
Local Time
+2 hours
Weather in Antalya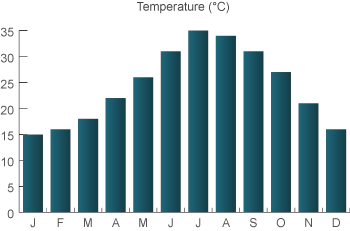 Find the city's dramatic caves…
The countryside surrounding Antalya is limestone, rich in waterfalls and sinkholes, and full of karst springs, from which lime deposits have built up over millions of years into vast travertine terraces, similar to the famous ones at Pamukkale.
Hidden among these limestone mountains are many dramatic caves to explore, including the Karain Cave, which was inhabited by humans in prehistoric times and where many remains of humans and instruments from Neolithic and earlier eras have been found. Another cave that was inhabited in prehistoric times is the Kocain Cave, with traces of an early settlement at its entrance.
Calling All History Lovers
A particular magnet near Antalya for history buffs is the dazzling ancient town of Aspendos, founded by the Hittites but boasting the most beautiful and best-preserved Roman theatre in the world.
Nearby is Perge, once the capital of ancient Pamphylia, and imbued with the aura of past glory. Here you can explore long colonnaded streets, a vast agora and ruins of temples in peace, with fewer crowds than in Aspendos.
Beautiful Beaches
The main beaches in Antalya are Konyaalti, the Antalya Beach Park, to the west, and Lara, the long and more sandy beach to the east.
Lara is also the main tourist hotel area, but there are also plenty of delightful boutique hotels in Kaleici, the Old City.
For the best beaches, head a few miles out to Belek, or to Phaselis with its magical mix of golden sand, ancient city and pine forests.
There's plenty more to enjoy in Antalya -- its market area and central bazaar, where you can shop for just about anything under the sun, its legendary Turkish Baths, and its inimitable cuisine, which seems to have a special ingredient which means it can't be copied anywhere else.
It's famous for its many colourful festivals, and its sunsets which are said to be the most beautiful on earth. And with its hot dry summers and warm winters, you can experience heaven in Antalya all year round.
Where should I stay?
Turkey is known for its impressive collection of all-inclusive resorts and family friendly hotels. With on-site amenities including waterparks, restaurants, kids clubs, golf courses and spa facilities, resorts in Antalya have everything you could need for the perfect holiday right on your doorstep.
A visit to Antalya also puts you in the prime destination for a multi-centre holiday to really experience the best of what Turkish culture has to offer.
Travel Options
If you're flying from the United Kingdom, you can expect flights to Turkey – specifically Antalya, to be around four hours long.
Located in the South of the country, Antalya is an extremely popular family destination due to this short-mid flight time and almost guaranteed sunshine, perfect for that annual family trip.
What else do I need to know?
The currency used in Antalya is the Turkish Lira.
Antalya is the 5th most populated city in Turkey.
Antalya is a hot spot for luxury golfing holidays.