Morocco Holidays
Morocco is a country located in northern Africa. It borders both the Mediterranean Sea and the North Atlantic Ocean and is situated directly across the Strait of Gibraltar. Approximately a two hour flight from Europe's major metropolitan areas, the country has become increasingly popular over the past few decades as a fun and convenient holiday destination. Moroccans are renowned for their hospitality and friendliness, and typically enjoy showing their country to tourists, which can greatly enhance one's holiday.
Morocco Destinations
Activities and Attractions
Hot Air Balloon Rides
A must-see for Moroccan visitors, hot air balloon excursions take guests soaring over the Atlas Mountains, where some of Earth's most enchanting scenery can be viewed. Tours of this kind are a once-in-a-lifetime experience and are guaranteed to please anyone who relishes adventure. Flight certificates are often given to visitors as a free souvenir depicting their experience.
Hiking
The Atlas Mountains are a favoured hiking destination among both tourists and local residents. Rising to over 4000 metres in certain places, the great Atlas Mountains dominate the entire country. Ameln Valley is popular among hiking enthusiasts as well, and whichever path one chooses, the hiking excursion of a lifetime awaits.
Day Trip to Essaouira
Originally constructed by the Portuguese in the 1700s, Essaouira is a famous seaside town featuring multiple fishing ports. The town is a terrific day trip for those who want to temporarily escape the noise and bustle of the Morocco's larger imperial cities. The colourful boats and intriguing alleyways add to its charming nature, and visitors can follow their own paths to vendors stalls, traditional eateries or the sparkling shoreline. Guests can also enjoy exploring the village's shoreside fortress in the ancient town of Essa, which is situated just off the coast.
Old Fes
Morocco's former capital is Old Fes, and it is still the country's third-largest city. In addition, it is also home to the University of Al-Karaouine, which is the world's oldest university. Elaborate architecture, breathtaking medinas, exotic streets, adobe homes, thriving souks, and beautifully embellished courtyards all make the city unique. The historic Chaouwara Tanneries and the Merenid Tombs are also established in Old Fes, which are two landmarks worth seeing.
Museums and Mosques
The Tetouan Archaeological Museum is situated in the centre of Tetouan and features multiple collections obtained from North Morocco digs in the early 1900s. The museum's entrance begins in a garden consisting of five magnificent mosaics dating back to the 2nd century. A collection of Roman amphorae, millstones and marble are also on display in the museum.
Holidaymakers should consider spending some time at the Museum of Contemporary Art or the Museum of Moroccan Arts and Antiquities in Tangiers. Both museums are expansive and well worth a visit. The Sidi Bou Abib Mosque and the Tangier Grand Mosque are open to tourists, and these historical landmarks are outstanding examples of true Islamic architecture. Most museums and mosques in Morocco are opened 365 days a year.
Shopping and Dining
Dining options in Morocco are vast, and include elegant, trendy and relaxed establishments. For example, the Blanco Riad is a charming, upscale eatery that features some of Morocco's most innovative dishes. A big change from the conventional Tajine menu, restaurants of this kind are known for unique options. The Ruined Garden is an innovative new restaurant built into a lovely garden and showcasing a large fireplace. This trendy café style eatery offers many authentic Moroccan dishes, as well as Chinese, Western and European fare.
There are essentially two types of shopping categories in Morocco, which are large malls or outlets, and street vendors. The latter specifically target tourists, and will often negotiate prices, whilst outlets or shopping malls cater primarily for local residents and prices are usually 'fixed.'
Weather
Temperatures in Morocco are typically agreeable, regardless of the time of year one plans to visit. However, the climate during winter and spring is considered preferable to the hot temperatures generally experienced during summer and autumn.
Language
The two official languages of Morocco are Berber, also called Amazigh, and Modern Standard Arabic. However, visitors will also hear French and Moroccan Arabic. English is sometimes spoken, but Westerners should not rely on English alone when visiting the country. A terrific place for a holiday, most travellers will thoroughly enjoy a trip to Morocco.
Climate
Major factors influencing Morocco's climate are its mountain ranges, desert and coastline.
Morocco's prevailing climate is strongly influenced by elevation, with the Rif and High Atlas Mountains experiencing significantly higher precipitation and creating a noticeable rain shadow effect. Snow is common at elevations above 2,000 m (6,500 ft).
In Marrakech, average daily temperatures range from a minimum of 5.2°C (41°F) to a maximum of 17.4°C (63°F) in January, to a minimum of 20.1°C (68°F) to a maximum of 37.9°C (100°F) in July.
Things to do in Marrakech
Atlas Mountains excursion from Marrakech - Day Tour £ 29 per person
Luxury spa experience in Marrakech - Private 2 Hrs £50 per person
Atlas mountain excursions: 4 valleys day trip from Marrakech –Private 1 Day £30 per person
Marrakech camel ride & Quad Biking - In group - 4 hrs - £75
Morocco Excursion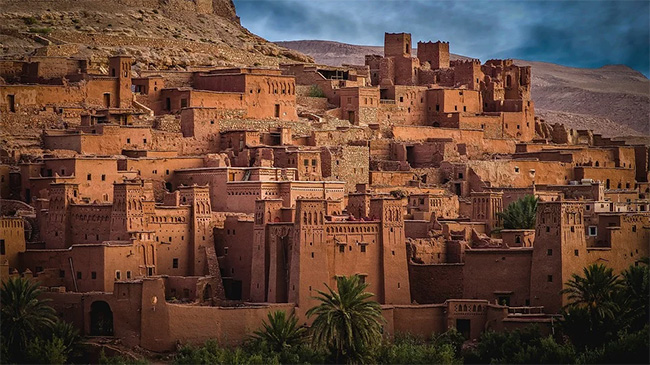 Guaranteed Departure every Saturday with minimum 2 pax
English, Italian, Spanish & French
PS: Special departures with exclusive languages are available for some dates, please refer to the price in the brochure.
Day 1: Saturday: Casablanca
Welcome at Mohammed v airport by ATLAS VOYAGES staff. Brief review of the tour during your transfer to the hotel.
Check in dinner and accommodation. (PS: The hotel's restaurant closes at 10:30 PM. No dinner served in the room)
Day 2: Sunday: Casablanca – Rabat (95 km)
Visit of Morocco's economic capital: The central market, the unique Habous district, the Royal palace, the Mohammed v square, the residential area of Anfa and the exterior of the impressive Hassan II Mosque.
Optional (FB Package): Fish lunch at local restaurant.
Continuation to Rabat the Administrative capital of th country, City tour: The Royal Palace, (Mechouar) teh Oudaya Kasbah, the Dinner and accommodation at the hotel.
Day 3: Monday: Rabat – Meknes – Fez (220 km)
Depature to Meknes and visit of the ismalian capital, famous for its 40 km long walls, visit of the bab Mansour, the Royal stables and the Jewish quarter.
Optional (FB Package): Lunch at a typical Moroccan Restaurant. Continuation to visit the impressive ruins of the Roman city of Volubills via the holy city of Mulay idriss. Dinner and accommodation at the hotel in Fez.
Day 4: Tuesday: Fez
The whole day is devoted to the city-sightseeing of Fez, the spiritual capital of Morocco: the medieval Medina and the Bou Anania Medersa, the Nejjarine fountain, the Foundouq Nejjarine: Museum of woods, Moulay idriss mausoleum, and the outside of Karaouine mosque. Optional (FB package): Moroccan lunch at a traditional restaurant in the Medina.
Afternoon visit of the esplanade of the Royal Palace with its sumptuous golden door and then sightseeing of Fez Jdid.
Dinner and accommodation at the hotel.
Day 5: Wednesday: Fez/Beni Mellal / Marrakesh (445 km)
Depature to Marrakesh passing bu the Berber village of immouzer kandar and irfane (in case of bad weather, the itinerary can be modified via khenifra).
Optional (FB package): Lunch and a moment of relaxation on Beni Mellal, one of the agricultural centers of Morocco.
Dinner and accommodation at the hotel.
Day 6: Thursday: Marrakesh
Visit of historical Marrakesh famous by its beautiful palaces and monuments: the Bahia Palace, the Koutou-bia Minaret and Menara gardens. Kunch at the hotel (FB Package).
Afternoon visit of the famous Djemaa El Fna square with its surrounding souks and handicraft quarters.
(FB Package): Dinner with fantasia show.
(HB Package) Dinner and Accommodation at the hotel.
Day 7: Friday: Marrakesh/ Casablanca (220 km)
After breakfast explore Majorelle Garden with its French influenced architecture and the intriguing history due to the connection with the iconic French designer Yves Saint Laurent, and visit of his famous Museum that exhibit his work of art.
Optional (FB package): Lunch at Moroccan restaurant.
Departure to Casablanca.
Dinner and accommodation at the hotel.
Day 8 - Saturday: Casablanca/ Departure
Transfer to the Mohammed V Airport, assistance with departure formalities.
NOTA BENE
For clients arriving on Sunday, the following arrangements are:
For arrivals at APT before 10h00 AM: direct transfer to the restaurant in Casablanca to join the group.
For arrivals after 10h00 PM: direct transfer to the hotel in Rabat. in this case a shorlened sightseeing of rabat takes place early the next day before leaving to Fez.
Price for transfer to Rabat in our confidential.
The sightseeing of Casablanca will take place upon return on Saturday morning.
Saturday afternoon is at leisure, HB at the hotel
Rates Included
Welcome & Assistance at menara airport by Atlas Voyages staff.
Hotel Accommodation based on HB in STD rooms according to the described itinerary,
Transportation with an adequate deluxe vehicle according to the number of partcipants.
Multilingual escorted tour guided throught.
Entrance fees to the monuments indicated in the program.
Our assistance.
Category
Eco Category
Promotional: £216; Low: £229; Medium: £237; High: £247
(Single Supplement = Promotional: £78; Low: £78; Medium: £87; High: £87)
Budget Category
Promotional: £276; Low: £289; Medium: £315; High: £350
(Single Supplement = Promotional: £104; Low: £104; Medium: £117; High: £117)
Comfort Category
Promotional: £332; Low: £379; Medium: £393; High: £427
(Single Supplement = Promotional: £142; Low: £142; Medium: £177; High: £177)
Superior Category
Promotional: £505; Low: £518; Medium: £552; High: £587
(Single Supplement = Promotional: £194; Low: £194; Medium: £212; High: £212)
Departures Dates
Promotional Departures
06th, 23rd Jun 2020
Medium Season
01st, 08th, 15th, & 22nd Feb 2020; 30th May 2020; 27 May 2020; 04th, 11th, 18th, 25th Jul 2020; 01st, 08th, 15th, 22nd, 29th 2020
High Season
29th Feb 2020; 07th, 14th, 21st, 28th Mar 2020; 04th, 11th, 18th, 25th Apr 2020; 02nd, 09th, 16th, 23rd May 2020; 26 Sep 2020; 03rd, 10th, 17th, 24th, 31st 2020