Social media is the best way to show off your incredible holiday destinations, with Instagram being the favored way to discover new places to stay. From researching specific hotels, your favorite influencer posting their travels, or a hotel going viral, there are so many places that people want to see and post about. With the #hotel having over 39 million posts and #travel at a whopping 642 million posts, Instagram is definitely the place to post your instgrammable hotel pictures. So, if you want to discover the most Instagram-worthy hotels look no further.
Keemala Hotel Phuket Thailand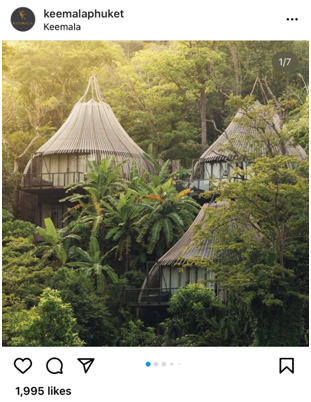 With culture and history at the heart of what they provide, Keemala Hotel Phuket provides ample opportunity for incredible Instagram pictures. Clay pool cottages reflect the earthiness of the "Pa-ta-pea" clan with their earth-like structure. Tree pool houses with views overlooking the Andaman Sea and Kamala village and surroundings of beautiful woodland. Staying here you will experience not only the instagrammable views of Phuket but the incredibly well-presented food and drink. Breakfast spreads you'll be dreaming of for days and sunset cocktails at the bar, Keemala does not disappoint.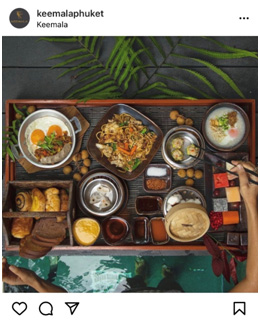 Coco Palm DhuniKolu Maldives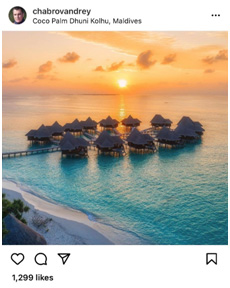 Dazzling white sand and breathtakingly blue sea, the Maldives is one of the most popular destinations to visit and post on Instagram. With many influencers coming to the Maldives and taking very insta-worthy pictures, this beautiful location is enough to make anyone jealous of your feed. The Coco Palm DhuniKolu is no exception, one of the most beautiful hotels in the Maldives with its unique formation of wood water villas, and lagoon bars producing tropical cocktails you certainly won't find yourself running out of instagrammable content.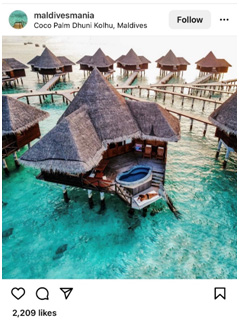 Luxor Resort and Casino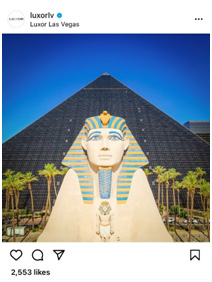 Africa, or America? This Egypt-themed hotel in Las Vegas will fill your feed with so much fun. Hosting world-class shows such as Americas Got Talent Live, Luxor Resort & Casino will transform your feed. Boasting a 30-storey high glass pyramid, containing IMAX theatres, casinos, show venues, many restaurants, and a Sphinx stature that is actually larger than the original. There's never a dull moment at Luxor, with 154k followers, it truly is one of the most insta-worthy hotels.
The Burj Al Arab, Dubai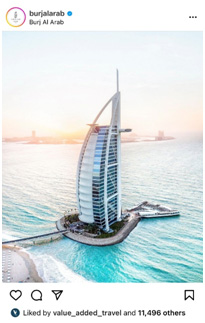 Positioned on its very own island, the Burj Al Arab in Dubai is the epitome of luxury. With a whopping 2.6 million people using #burjalarab and 1 million followers on Instagram, this hotel has to be one of the most famous in the world. Your camera roll will be bursting with insta-worthy snaps of the iconic sail-shaped hotel, stunning views of Dubai and luxurious hotel room interiors. Don't forget to picture your exquisite meals at this 7-star hotel.
Rixos Land Of Legends Antalya Turkey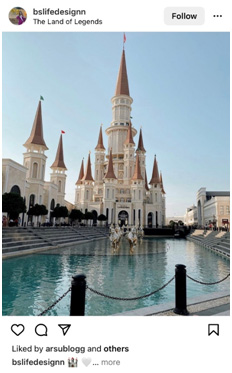 The land of legends is an incredible place to fill your day with excitement. With hotel rooms that are cartoon themed, your Instagram will be full to the max with color. The hotel and park has a beautiful fairytale castle where you can pose for that perfect shot alongside the white horse statues. Restaurant experiences you wouldn't want to miss, with tables located around an aquarium, and live Lebanese dancers providing your entertainment. There's an opportunity for an insta-worthy image at every moment.
Ayana Resort and Spa Bali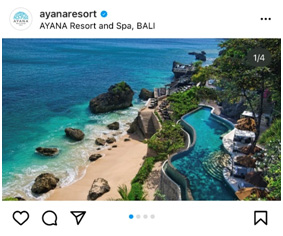 Bali has to be one of the most instagrammable destinations of 2022, there's no shortage of influencers visiting and posting about their holidays. Ayana Resort And Spa certainly doesn't lack those Bali backdrops you've been seeing on your explore page. From floating breakfasts to frozen cocktails, your camera roll will be as full as your tummy. Ayana is an award-winning resort, situated on 90 hectares of cliff-top land right above Jimbaran Bay. 19 restaurants and a private beach and club, you will have plenty of opportunities to pose for a piccy.
One&Only Le Saint Géran Mauritius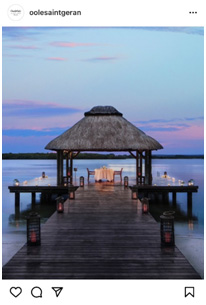 This tropical island getaway destination will leave you in awe. Its breath-taking views of the beach and evening sunsets are certainly insta-worthy. They have almost 2 kilometres of immaculate white sands and an enchanting lagoon. The ultimate Luxurious hotel you can show off to your followers. One And Only Le Saint Geran has a Boathouse that hosts a variety of activities such as snorkeling paddle boarding and kayaking so make sure you pack your waterproof phone case, for you wouldn't want to miss those on-the-water shots.
Dreaming of that Instagrammable holiday shot yet? Now you have discovered the most Insta-worthy hotels across the world. From city escapes keeping your feed full of fun partying to tranquil beach shots in the tropics of the Indian Ocean. Value Added Travel have got you covered, enquire today about our exclusive offers and deals and you can make that dream Instagram feed come to life!
Don't forget to tag us in your travel pics- @value_added_travel